Dam: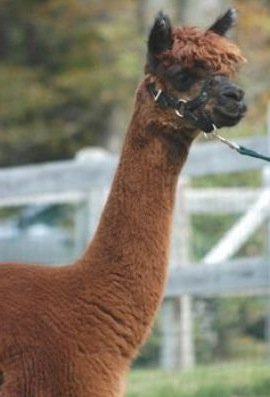 Kristina is a lovely proven nurturing mother. She has four beautiful babies on the ground. We are so fortunate to have event free births with Kristina. All goes very smoothly and she is a very caring gentle mom. For a first time breeder Kristina will be a real treasure.
She had lovely Margeaux in 2006, a medium fawn female, when bred to white (Skyeview's Michelangelo). In 2007 she had a wonderful white male this time, Michelangelo's David, when bred to the same white service sire, Michelangelo. 2008 brought us a medium brown female, Captain Jacks, Jackie O' when bred to fawn.
Most recently, her 2010 cria, equally impressive results: Estrada's Katarina, with a micron in the 17's... watch for her in the show-ring, for 2011.

We were so impressed with this this genetic pairing we re-bred her to CT Estrada, to add value to the bottom line of any breeding program!
Terrific diversity in color!
Sire: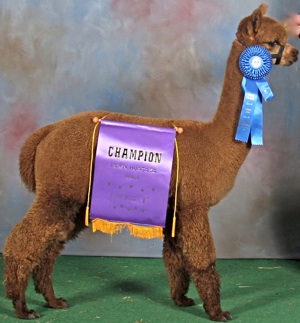 Estrada is a well-balanced male from two top parents. His Sire, Evander does it again with this amazingly dense, fine fleece male with a great handle and luster, extensive coverage and a great body. With his 2010 shearing, Estrada had over 10 pounds of fleece, which is an incredible 6+% of his overall body weight!
We are very excited to have Estrada in our breeding program. Alpaca judge, Wade Gease has said about Estrada, "He is the "complete package". Very nice fleece style and crimp formation throughout. He has kept his fineness/softness." Also, recently, Judge David Barboza has said about Estrada: "His architecture and density is incredible! Spot on!" And Alpaca Fleece Judge, Cheryl Gehly has written: "Wow! Fine with great character! Quite uniform for micron." "Beautiful Fleece: fine, bright, well organized!". awarding him first place in the competition, and again, after the fleeces third showing at the 2009 Empire Symposium and Fleece Event, she commented again;"Beautiful Fleece: fine, bright, well organized!". Most recent fleece circuit, Estrada's fleece (its fourth showing) took yet another blue at PAOBA show, May, 2009.

To date, Estrada has multiple Champ/Reserve Championships, and over twenty first-place, blue-ribbon awards. See the details of his show record below, most in very competitive classes!
In 2009, Estrada's Fleece won the reserve Championship, and took first place in his class over another amazing alpaca who won the 2008 Futurity Championship that had 54 entries in the class!

Both dam and sire have produced Championship winners so his future is extremely promising indeed.

Estrada is settling females. Traditional farm breedings with confirmed pregnancy, stud fee: $2,500, $2,000, mobile*, and $1,500 for drive-by breeding.

Please compare this champ to other herd-sires with similar show records. You will find him to be a terrific value!