The Louet Victoria is not like your everyday spinning wheel. It's light, portable and incredibly easy to use. The Victoria has been designed with precision and care, from advice received by today's hand spinner. It has been named by some "the Rolls Royce" of spinning wheels!
This wheel folds, and is perfect for any that travel - and is incredible light, at just 7.5 pounds with the bobbin. Comes with its own carry case.
Find a comprehensive review of this spinning wheel by clicking here.
This spinning wheel normally retails for $745 without bag* (Island Alpaca Co. always discounts wheels 5% from the manufacturers suggested retail price. Please see below for additional shipping charge)
Features & Benefits: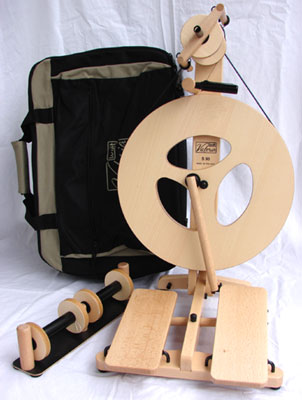 Because the Louet is so compact it is light enough to travel anywhere, and easily folds in half, making it very portable. Ratios of 1:6, 1:8.5 and 1:13 with optional High Speed Set provides an extra 1:19 ratio. Scotch Tension Brake System gives you an unlimited range of tension. Well made with care and precision.

Available in Classic Oak or Contemporary Beech, includes free travel bag (which can be used as a handbag, shoulder bag or backpack), two extra bobbins, for a total of three - and a lazy kate.

Size: 14 1/8". Height to orifice and height at the back are the same: 23" (Maximum height is 25").

Folded size: (with flyer and bobbins removed): 5 3/8" x 14 1/2" x 22". Treadles are each 3-3/4" wide, and width at the base is 13". The wheel comes ready-to-spin.

Finishes Available:
Beech (pictured above left) and Oak (pictured above right)
Setting-up the Victoria is fairly simple: View this video for assistance. The shipping weight is approximately 9 lbs. with packaging. In stock, and available for immediate shipping.
-----------------------------------------------------------------------------------------------------------------------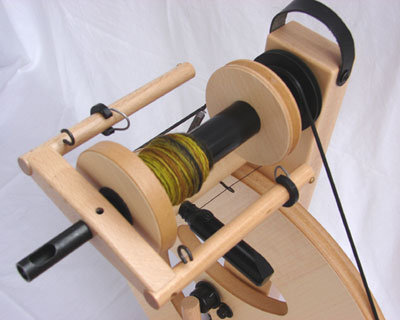 For over a quarter century, the Louet team in Holland has been researching, designing, experimenting, and consulting with you, the customer, to create a superior line of spinning wheels.
Louet wheels treadle lightly, are low maintenance and nearly adjustment free and can be modified with accessories for the expert spinner.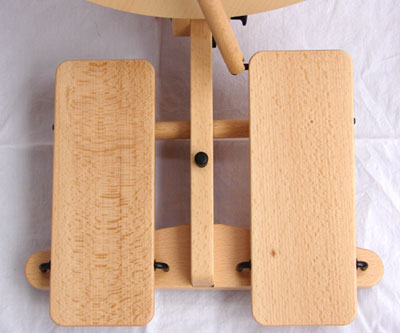 Technically all Louet models are the same. Each wheel has a single belt bobbin drive with an adjustable flyer brake to regulate the tension. The flexible belts are made of polyurethane and never have to be adjusted.

**Additional shipping and handling fee of $25 to $35 applied to purchase price, after check out. Island Alpaca Farm offers spinning classes. Please inquire for private lessons - wheel rentals offered for a small fee. Wheel rental credited towards your purchase of wheel.
**No discounts may apply on any spinning equipment.
For our return & exchange policy, click here.