E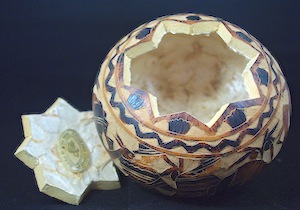 ngraved Peruvian Gourd
Hand crafted and painted by local artisans. This fine example of Peruvian folk-art is hand-carved and engraved with a remarkable intricate design the includes images of Peruvian decorative elements to include alpaca. It is an expression of craftsmanship of the Andean Quechua speaking people of Peru. A functional piece, as the top is carved as a lid.
Size: 4 to 5 inches tall, 5 inches wide.
Colors: All vary, and are one of a kind. Please allow variation from image. Some areas have been intentially darkened.
Hand-crafted in Peru.