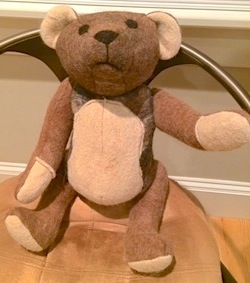 These Alpaca Felted Teddy Bears are handmade so no two are alike.
These special critters are filled with personality like our own alpaca. They are made with 100% alpaca wet felted sheets made with our own Island Alpaca---A Hand-felted Teddy made with our own alpaca!
Contents: 100% Alpaca, stuffed with 100% polyfil.
Size: These stand around 16 to 18 inches tall with moveable joints and head.
For Home Decor / Collectable only.
PLEASE NOTE: THESE ALPACA TEDDY BEARS ARE NOT INTENDED FOR CHILDREN. THEY ARE NOT CONSTRUCTED FOR EVERYDAY USE/PLAY AND EXCESSIVE HANDLING. They are VERY TENDER and prone to damage with contintual use. They are made to sit on a shelf or in a corner on a rocking chair etc. Warning: These Alpaca Teddy Bears are terribly CUTE! :0)
Island Alpaca Farm labeling
Made in the USA!