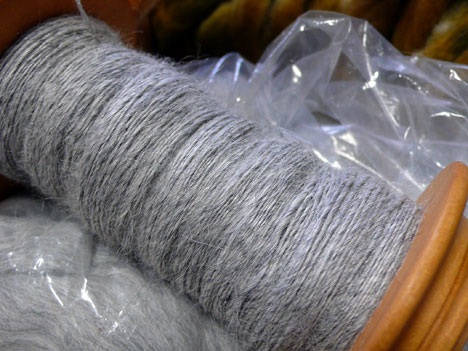 All roving is made from 100% alpaca prime fiber.

Roving is ready for spinning, felting or use in any craft. A lovely gift for the fiber artist in your life!
Sold in 1/2 pound bags ($4 and $4.50 per ounce) or one-pound bags, for a 10% savings. ($3.60 and $4.05 per ounce).

Available in creamy-white, and our softest colors: fawn (light brown), brown, dark brown, silver-gray, and black. (A fine, 21 micron, fiber diameter).

Pictured to the right is our hand-spun yarn made with our grey-roving.
Visit a fun blog which comments on our special black roving here!
From our own, and from Peru.
Autumn Mist (Misty): http://islandalpaca.com/alpaca_detail.php?id=105

Mustang Sally: http://islandalpaca.com/alpaca_detail.php?id=1

Twilight: http://islandalpaca.com/alpaca_detail.php?id=2