These wonderful soaps are made by a camel dairy, right from their our own kitchen. The soap making process is very traditional: mixing a saponifying agent with fats and allowing them to cure over several weeks.

Each bar of our Camel's Milk Soap contains 25% camel's milk.
There are no animal fats used in these wonderful soaps. The fats come from rich oils like pure olive oil, coconut, palm kernel, and castor oil.
It is one of very few soaps, hand-made, that has continued to use pure olive oil, even though the price has skyrocketed. The canola oil alternative just does not provide the benefits of pure olive oil.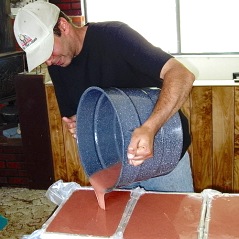 The Process:
The camel milk is added to the saponifying agent and stirred constantly to maintain a low temperature. Once the they are combined, they are added to the plant oils and mixed for several minutes. Near the end of the mixing process, essential oils or fragrance are added, herbs and color to make each of the unique blends.

Once mixed thoroughly, the soap is poured into molds and allowed to rest for one day before being removed from the molds and placed on the curing racks where they will remain for up to six weeks. Then they are cut and labeled.
Camel Milk Soap Varieties:
Lavender and Orange Blossom contain natural essential oils providing their unique scents.
Gold Frankincense and Myrrh (currently back-ordered), and Milk and Honey are made using high quality fragrance oils giving each a distinct character and experience. Also, the Rosemary and Mint... wonderfully refreshing!
For those who want to enjoy the bare essential goodness of camel's milk blended with pure olive oil, choose the Naked Camel Milk Soap; nothing between you and the camel milk experience!
Appx. weight of each bar is 2-1/2 ounces.