Workshops and Events
---
Island Alpaca Farm at Island Markets & Fairs, 2017:
West Tisbury Farmers Market:
Saturdays this Summer from June to October 2017
Wednesdays this Summer from June to end August, 2017
Saturdays @ the Ag Hall, Fall/Winter, through December 2017
Oak Bluffs Harborfest: Saturday, June, 17, 2017
Oak Bluffs Tivoli Day Saturday, September 16, 2017

West Tisbury Ag Society Fair: August 2017
Edgartown School Craft Fair: Saturday, December 9, 2017
---
Watch for the return of Weekend Story Time this Spring 2017 @ Island Alpaca Co.
Bring your children for a 1/2 hour of story telling in the barn!

"Blue Ribbon Alpaca", This first-ever, hard-cover children's alpaca story-book is the story of an alpaca, her envious companions, her awesome fleece and the children who love her! Recommended for ages 4+, (Dress very warmly!) Donation welcome.

1 Head of the Pond Road, Oak Bluffs
For more information call: 508-693-5554
---
Tenth Annual Shearing Day Celebration!


Saturday, April 29, 2017 - 10-4 - Rain or Shine Click HERE to Watch Video from a prior shearing!Not to miss! Join us for a fun, furry family-friendly event.
Refreshments - Door Prizes - $5 per person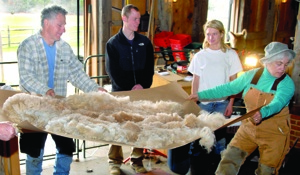 We hope you can join us for this remarkable event that will feature some of the areas finest alpacas. 60+ alpacas are scheduled for shearing and public viewing. Bring the family for an hour of fun and education. At this event you will meet the alpaca and enjoy a day with island friends. Learn more about this special dayand view images from a past event here.
---
Neonatal/Birthing Clinic with Dr. Cheryl Dewitt:
Saturday, May 13, 2017

Island Alpaca Farm is proud to host a Birthing/Neonatal Clinic with Dr Cheryl DeWitt!

Dr. Dewitt is one of the most respected camelid veterinarians in the United States. This seminar is a must-have for all future breeders, experienced breeders and veterinarians. Other livestock breeders will certainly benefit from this seminar. Enjoy a morning lecture with presentations, on female reproduction/breeding; reproductive anatomy/physiology, breeding/pregnancy diagnosis options, gestational development and much more! Afternoon wet-lab using uterine simulators, will challenge registrants to diagnose the contents of the uterus, discuss a proposed delivery plan, identify and correct dystocias to deliver the cria safely. Invaluable emergency training and a lot of fun!
Course-book, a light breakfast and lunch provided. Class size limited. 9:30 am - 5 pm. $195, and $150 for additional participants from the same farm (one course-book per farm), and just $100 for repeat guests. The price of the workshop is refundable should the attendee purchase alpacas or breedings to any of Island Alpaca fully owned herd sires. For information and registration, click HERE!
---
Alpaca Love to Party!

Hold your special event at the farm or we will bring the alpacas to yours!

Party @ Island Alpaca! Island Apaca Farm is a beautiful setting for hosting your special event. Gatherings such as weddings, birthday parties, reunions, baby showers, classes, book signings, or any other special event. We also offer our Alpacas for Hire! We can bring the alpaca to your special event!

We come to you: Island Alpaca Farm will attend your wedding or special event with our alpacas in tow! Two of our most social alpacas will come with a farm assistant, their halters and leads for you to pet them comfortably, snacks for you and your guests to feed the alpaca, and alpaca party favors and alpaca balloons! Alpacas are very friendly and do not bite, they are very sweet, mild mannered animals. They are sure to be the hit of your party! Click here for more info!

Or, you come to us: Island Alpaca Farm is a terrific setting to hold your special event. Birthday party, baby or bridal shower, company event, reunion, anniversary, booksigning, or any reason for a most memorable party, even a book-signing! We have a lovely guest/viewing area, where you and your guests can be surrounded by our alpaca and a beautiful sunset.

Click here for more info! Catering services available. Please inquire for rates and availability.
---
Workshop Summary:
Join us for our fun and informative classes that will be held at Island Alpaca Farm. Class sizes are limited so register early. Most classes also available
by appointment. View our calendar dates for specific class details.
Pre-registration is required.
Alpaca 101: The basics of alpaca care and ownership, for adults (See general description and registration information here.)
Alpaca Discovery: Join us for feeding, barn chores, pasture clean-up, and even take an alpaca for a walk. (Monday, Wednesday, Fridays and Saturdays, 9:00 am - 10:30 am for anyone of any age! (See general description and registration information here.)
Educational & School Tours: A 1/2-hour tour that will educate anyone of any age about alpacas and what we do here at the farm!

(See general description and registration information

here.)
Intro to Spinning Yarn: Two-session class: By appointment (See general description and registration information here.)
---
Alpaca Birthday Watch-List 2016:
This year, Island Alpaca is expecting three alpaca birth dates, from July to late September. Come for a visit and maybe you will be so lucky to experience a birth!