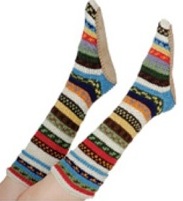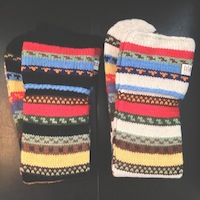 These slipper-socks are a must for any sleepwear outfit, in your pajamas, or just around the house. Soft, thick and warm, appropriate for both men and women. Each pair is handmade from 100% Alpaca with no-skid, suede bottoms.
Sizes:
Small: Women's 5-7, Men's 4-6
Medium: Women's 8-9, Men's 7-8
Large: Women's 10-11, Men's 9-10
Colors: View OPTION button above. Ivory and Black (shown above) with colorful patterns. Note: Each slipper is one of a kind, and may vary slightly from that shown.
Island Alpaca Labeling
Handmade in La Paz Bolivia; our work-at-home moms in the Bolivian Andes are paid fair-trade wages to hand-knit these wonderfully soft, incredibly warm, lightweight alpaca slipper socks.
Free shipping for all orders over $100!
For our return & exchange policy, click here.