Get lost in the softness of this family of 100% baby alpaca fur Bears are especially soft, and very squeezable! These veritable cast of characters are handmade, and each is one-of-a-kind with unique

patterns and personality like the alpacas themselves.
Start your own private collection or consider them as a very personal gift, perfect for any occasion. These furry creatures have been known to be wonderfully received "get-well soon" offerings, or more simply, a gift of cheer!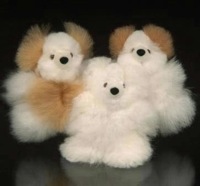 Colors:
White, fawn, brown, dark brown and multi

Sizing:
Picolo, Pocket-sized Baby-Bear: 5 to 6 inches, $15.95 (sorry, multi-unavailable at this time in this size)
Amici-Bear: 7 to 8 inches, $24.95
Baci-Bear: 13 to 14 inches, $45
Papa-Bear: 18 inches $79