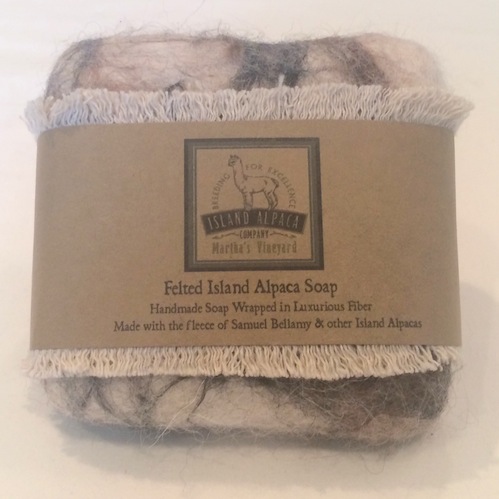 SOAP DISH DISCOUNTED WITH PURCHASE OF OUR SOAPS!

Our oversized, hand made olive oil soap bars are wrapped in luxurious alpaca fiber from Island Alpaca Samuel Bellamy and other Island Alpaca alpacas!
Wrapped with Island Alpaca labeling, to include ingredient list and care instructions.
We start with nourishing Olive Oil and add touch of Coconut Oil to create a nice hard bar of soap. A drop or two of Castor Oil for lots of suds. Saponify these oils with good ole lye. The result.... no lye! Just a wonderful soap base. This soap is also enriched with Jojoba, Sweet Almond Oil, and a touch of silk to pamper your skin and give a luxurious lather.

Simple Ingredients = Great Soap!

TO USE: Wet fiber thru to soap, rub vigorously to create lather.
Remove excess water. Allow to air dry between use. Enjoy!
For our return & exchange policy, click here.