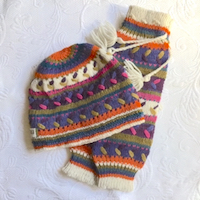 These "La Paz", 100% Alpaca Leg Warmers with adjustable tassle-ties, are hand knit and hand embroidered. See DETAIL above for a closer look at the level of craftsmanship. A must-have for any outfit to add warmth for the outdoors!

Pair-up with our matching "La Paz", 100% Alpaca Beanie-Style Hat for total coverage this winter and SAVE!

These alpaca hats or set are also a practical gift idea for any occasion; Valentine's Day, Birthday, or for the Holiday's. Soft, thick and warm, appropriate for both adults and teens.

Each is handmade using 100% Alpaca, and is one of a kind, and may vary slightly from that shown.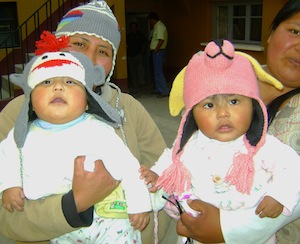 Sizing: Fits most adults and teens
Composition: 100% Alpaca (with fleece lining)
Island Alpaca Labeling
Handmade in La Paz Bolivia; our work-at-home moms in the Bolivian Andes are paid fair-trade wages to hand-knit these wonderfully soft, incredibly warm, lightweight alpaca hats.
For our return & exchange policy, click here
Free shipping for all orders over $100!