Island Alpaca Gift Shop

To access our products, click on the product links to your left.
---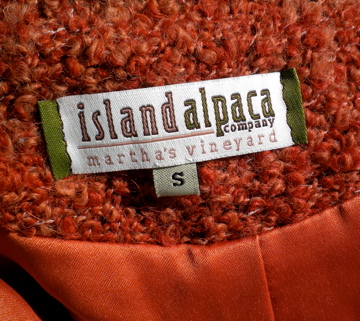 "A thing of beauty is a joy for ever: Its loveliness increases; it will never pass into nothingness; but still will keep. A bower quiet for us, and a sleep full of sweet dreams, and health, and quiet breathing."
It is unlikely that the poet John Keats had in mind a hand-knit alpaca hat or a pair of slippers lined with alpaca fur when he wrote these lines in the 19th century, but there is something to be said for the power of a quality, well crafted garment to feel good about! Alpaca was however mentioned in the movie classic "A Street Car Named Desire".

Welcome to the Island Alpaca Online Store!
We welcome you to shop at our farm, (open most days, year-round) and on our online store. Enjoy the collection of quality alpaca products both on Island and online. Please visit us often, as we are constantly adding new items to the storefront. FREE shipping on all orders over $100. MasterCard, Visa, Discover and American Express accepted.
---
Some of your comments:
"Just want to let you know that my big order of socks arrived Thursday which is amazingly fast. The socks are lovely and thick and soft, and long enough to stay up well. I am redeemed as a Santa Claus! Thanks and Merry Christmas!"

Marli R., Guilford, VT





"I just received the little alpaca fur teddy bear that I ordered for my daughter and I had to tell you that I am THRILLED with it!! It is absolutely perfect and I know she will fall in love with it on Christmas morning! Thank you so much!! Also, I am very impressed by how quickly I received my order! Thank you for everything. Sincerely, Francie K."



"Thanks Barbara, we received the beret in good shape and in plenty of time for our Christmas celebration. Allison (my wife) was so proud of the beret and the card with the pictures of alpacas. She really wants two alpacas but this will have to do for now. Allison takes her kindergarten class outside for recess each day and says the beret along with the scarf and socks (we purchased from you in our visit this past May) really provide warmth for the cold winter days. She is proud to wear alpaca from head to toe (and looks stylish in it I might add). We wish you all the best in the coming year.", -- Clint, Apex, NC

"Honestly the best prices, shipping, and quality of product I was able to find in two hours of searching." ....

"Again I really searched, pulled up a number of sites and you came through on the item I was looking for in the size and a reasonable price. Some sites had a similar price but wanted to charge $25 bucks for shipping which is ridiculous. Not to mention I think you have a better product than what I saw."

. -- Corey, Salt Lake City, UT

"I love these fur hats. A coworker ordered one for his wife and when I saw it I bought one for myself (brown one). Then when my mother saw it she wanted one, so we bought a white one for her. Now my sister in law wants one and she picked out the black. Can't wait to see it! ", -- Jennifer, Baltimore, MD



"I just received a beautiful alpaca scarf in the mail from you. I love it. Thank you very much."

--Hannah, West Tisbury, MA



"...We recently visited Island Alpaca and p

urchased one of the Alpaca soft toys made from alpaca fur. The toy is amazing and one of the best stuffed animals I have ever owned (which is really saying something)..." , Weiyl

"...Thank you for sending the gloves! I really love the bubbly black ones and the fancy black and white designed gloves that lack a thumb covering. I wish that I were able to visit your store to see things in person! The striped ones are very nice as well... Thank you for helping me out with the exchange! I appreciate your efforts to please me. Continued success to you!" --Kathleen, Sterling, MA

"Received my gorgeous gloves yesterday!! I love them! Thank you so much." --Kristen, Southborough, MA

".... you have just made my Christmas! The package just arrived and all I can say is wow! Thank you so very much. The slippers are awesome, the soap is incredible and the hand puppet is simply the most amazing thing ever! When I opened the box the fragrance of the soap was such a treat. I am most impressed and truly grateful. Merry Christmas to you and yours," --Robin, Dallas, TX

"...I found you through a google search: Beautiful website! I look thru 2 dozen sites and decided to purchase my glittens from you because your products seem superior and your site was by far the best." --Angela, Gig Harbor, WA

"Thank you so much for the super-fast delivery! The two pairs of socks sent out by Island Alpaca on Friday, Nov. 26th, arrived down here in Georgia on Monday, Nov. 29th! Awesome. The socks are beautiful. Thanks again." --Francine, Cartersville, GA

"Lightning fast delivery. Exactly as I remember seeing this summer on the Vineyard. Thanks!!" --Rick, Gulfport, FL

"You have been more than helpful. For 17 years, I worked part-time at a Filenes/Macys and although we were supposed to be helpful to customers, we could not be as good as you. Thanks again." -- Paul, Monroe, NY "Thank you for the fast and efficient shipment. I received the merchandise in excellent condition early in the week!" --Paul, Middletown, NY

"I received the pens today! They are Fabulous! :) Thank you so so much!" --New Berlin, CT
---
To access our products, click on the product links to your left.
Island Alpaca Farm Store offer a large variety of quality alpaca-related products, luxurious garments, and fabulous, locally grown yarns. We are confident that you will find that these alpaca products will exceed every expectation of a luxury fabric; soft and silky, yet warm and lightweight. Like a fine heirloom, your alpaca product is likely to provide you with years of satisfaction.
If you have any questions, please do not hesitate to contact us. We are very happy to assist. For shipping info, etc, please visit our customer service link.

We are excited that you can visit our store, not only online, but here on island, to share the alpaca experience with us!
---
Alpaca Fiber - a brief introduction:

Soft as cashmere and warmer, lighter and stronger than wool, Alpaca fiber comes in more colors than any other fiber producing animal, in 22 colors that are recognized by the textile industry, with many blends in addition to that. Alpacas are shorn in the spring for their wonderful fleece, which produces an average yield of 4 to 5 pounds of fiber that is turned into the most luxurious garments in the world. This cashmere-like fleece, once reserved for Incan royalty, is now enjoyed by spinners and weavers around the world, and simply alpaca fiber enthusiast like ourselves!
Softness and visual texture - The fiber, soft to the touch, and with excellent appearance and natural luster, gives garments unsurpassed drape, elegance and style together with an outstanding handle.

Thermal insulation and moisture-absorbing properties - The fiber is a thermal insulator and absorbs ambient humidity, thus affording greater protection and comfort in a variety of climates. The alpaca hair follicle has air pockets, which add to the insulation property of the animal, and for the end user of the alpaca fiber garment. It is understood that it is many times warmer than wool.
Non-flammability - The fiber will not burn unless it is in direct contact with a flame and therefore affords the wearer greater safety.

Strength and elasticity - High tensile strength and elasticity make the fiber particularly durable.

Durability - The fiber has a reduced tendency to pill/felt and garments made from it thus maintain their new appearance and do not lose their shape.

Now it is time for you to enjoy this incredible fiber, and carry the exchange between the ancestral Incan culture and the modern world.

*Hay-saver grids, and spinning wheels do not qualify for free shipping.