For both men and women, these very colorful, lovingly constructed, 100% Alpaca, handmade beanie-style hats are each one of a kind. Special woven detail at brim. Each alpaca hat is lined with soft, fleece for extra comfort and unbeatable warmth, the insulation one needs in the chilly season! Truly affordable comfort, and style! See DETAIL for Island Alpaca, Martha's Vineyard labeling.
Colors: View OPTIONS above.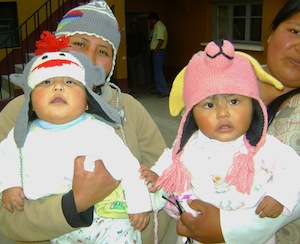 Sizing: Fits most teens and adults
Composition: 100% Alpaca (with fleece lining)
Island Alpaca Labeling
Handmade in La Paz Bolivia; our work-at-home moms in the Bolivian Andes are paid fair-trade wages to hand-knit these wonderfully soft, incredibly warm, lightweight alpaca hats.
For our return & exchange policy, click here