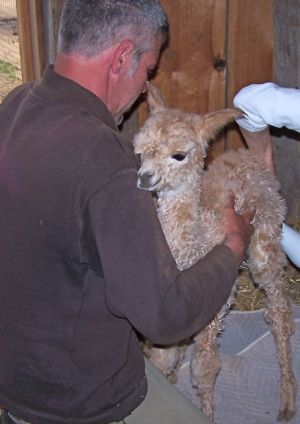 Shop Online > Workshops & Specialty > Alpaca 101 Class - $50/$75

Alpaca 101 Class - $50/$75


Currently not available online.

Alpaca 101


Description: There is much to be learned about alpacas, from vaccines to genetics. This informal program is ideal for those who wish to learn the basics of alpaca care and ownership. Learn how to select an alpaca for purchase with "hands-on" instruction, basic health care, breeding, shearing, fiber sorting, grading and much more.

One 2 hour session, from 9:30 am to 11:30. Other times available by appointment!

Pre-Registration Required: Contact the farm @ 1-508-693-5554, or by email info@islandalpaca.com, payment can be made online or by check. Special Note:
Program may not be availble in the summer.
Date: By Appointment.
Class Fee: $50 per person, $75 per couple. Full credit of class fee applied towards a purchase of any Island Alpaca Co. alpaca, or breeding.
Please note @ check-out, the names of participants and your requested date and secondary date.
General Outline:
Our class is very informal, and will adapt to your needs as a breeder, or soon to be breeder. Throughout the class we will take any questions and answers, and happy to discuss any topic at greater length.

Daily Alpaca Care:
Feeding and Barn Routine

Practical Nutrition:
Diet and Supplementation

Monthly Care:
Deworming, Vaccinations, Toe-Nail trimming, Teeth and Body Scoring

Reproduction:
Breeding Practices, Pregnancy Determination, Birthing, Cria Care

Genetics and Herd Selection:
Fiber, Conformation, Teeth

Physical Space:
Pasture Management, Barn Set-up, Fencing.

General Discussion / Question and Answers
A testimonial from some former participants:
"Barbara, Jeff and I had an amazing time on your farm. I thank you so much for hosting us for my best birthday ever. My highest compliments go out to your staff: Ivy and Ashleigh.