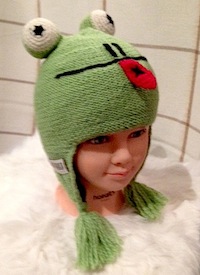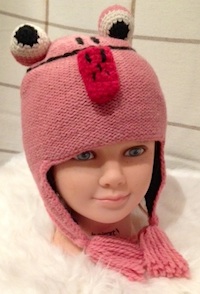 Ribbit...Ribbit!! These handmade, bug-eyed frogs are 100% alpaca whimsical creatures that make little ones laugh! Liven up pretend play or turn autumn walks into amusing adventures with these adorable animal hats. They are fun to wear, and make everyone happy. For Boys and Girls.
With an added fleece lining they are incredibly warm, and will make wearing a hats, loads of fun. One customer reported that their child does not want to take it off!
Choose from others, the ferocious tiger, bashful brown bear, ducky-duck or the floppy-eared bunny, monkey, moose, doggie, friendly-fox, or get them all for many hours of dress-up fun.
Do not miss the matching animal mittens for a fabulous set for the chilly winter months!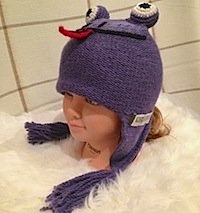 Size: One size fits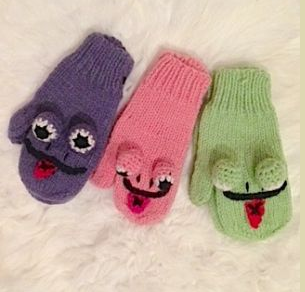 most children ages 1 to 6/7. May also fit many older.

Composition:
100% Alpaca, with fleece lining.
Handmade in Bolivia
Work-at-home moms in the Bolivian Andes are paid fair wages to hand knit these wonderfully soft, incredibly warm, lightweight alpaca hats.
For our return & exchange policy, click here.