"I was given a pair of these socks for my birthday and after wearing them can not go through the winter without another pair. They're warm, soft, and so comfortable. They are fabulous!" -- Linda B. West Springfield, MA
Tremendous, comfort and warmth best describe these alpaca socks. These alpaca socks are designed with the outdoor enthusiast in mind. For work, sport, play, all activities!
Image below is of inside texture!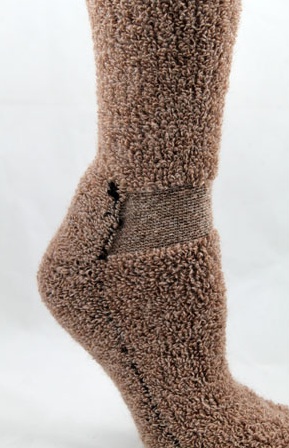 The reinforced heel and toe of this alpaca sock, give the foot the extra wear it needs and are knitted with a small amount of extra nylon and spandex to give them added elasticity and body. The alpca sock is lined with a terry-cloth like construction - see inset image to the right to see sock as it is inside-out. It is also lightweight, with the reinforced foot arch band as well, as a ribbed-knit ankle support, also to ensure a proper fit.
These alpaca socks are a "must-have" for any outdoor activity in the cooler months. Their superb quality and performance go unmatched.
This is an alpaca sock for men or for women!
An unsolicited testimonial from Ann from Ridgewood NJ, said "they are like walking on clouds!"


Alpaca Sock Sizing:
Small: Children's size to Women, 5 to 7
Medium: Women's: 7 to 9, Men's 6 to 9
Large: Men's: 10 to 13, Women's 10+
Extra Large: Men's 13-15
Alpaca Sock Colors: (See view DETAILS above) Brown, Silver-Grey, Pepper-Fawn, and Charcoal. Please note, do to the nature of the cooperative, slight color variation from photographs may apply. Certain Colors are not available from time to time due to Fiber Cooperatives constraints.

Alpaca Sock Composition: 78% Alpaca, 20% Nylon, 2% Lycra.
Alpaca Care: Cold-water wash, air-dry suggested.
Island Alpaca Company contributes fleece to the local fiber cooperative to produce these socks. Alpaca Sock wrap shown below!

Made in North America
For our return & exchange policy, click here.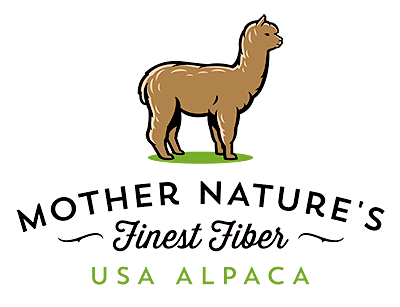 Putting our fiber to work - Overview: Island Alpaca contributes half of our annual harvest to a local fiber cooperative which supports not only our farm, but other alpaca farms. Our local fiber cooperative is a processor that pride themselves on producing high-quality alpaca products and maximizing the value of our raw alpaca fiber, so that we can offer, in turn, this high-quality, environmentally and socially conscious alpaca products to the market.
At Island Alpaca, we give regular fiber supplements and ground flax daily to our alpaca, helping to promote overall good health and a superior quality fleece. Our alpaca fleece is so fine, that, last year, a large portion of our "seconds" (neck fiber) were re-sorted into the "prime" (blanket) category. Our textile lab has shown results that indicate that our alpaca are some of the finest in the country.
At Island Alpaca's annual shearing, we skirt and hand-sort the fleeces in order to produce a range of products which use all grades of fiber. At the cooperative, it is then sorted by color, grade, then hand-baled, scoured, spun and then finally, either machine knit or woven into beautiful, high quality alpaca products. Once the product is received at our Martha's Vineyard farm, they receive the Island Alpaca label and then become available to you for purchasing!
We hope you enjoy our product produced by our local fiber cooperative.
k