Island Alpaca signature "Mother Nature's Finest Fiber" Blanket is one of our new, limited-edition products for this season. (Supplies limited. Please allow a ten day lead time to ship)
Our new heavy-weight blanket showcases the warmth and softness of Alpaca with a unique, eye-catching design. It is produced using alpaca-blend yarn, highlighting the wide range of fiber colors produced across our national alpaca herd. This signature blanket is double-knit, contribuiting to the overall weight, overall comfort, and ability to keep any one warm on the coldest of nights!
Photogra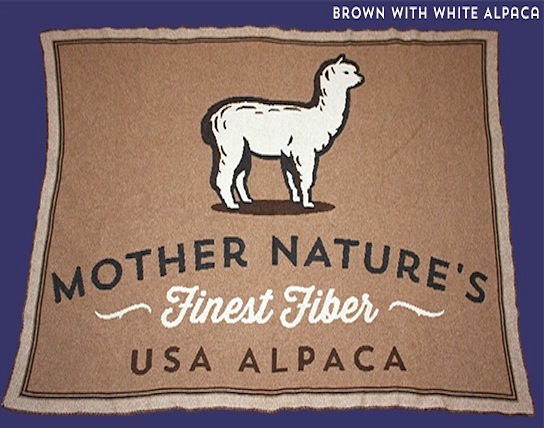 phs can only begin to scratch the surface on how impressive this blanket is in person.
Size: 80 inches by 56 inches
Colors: White with Brown Alpaca (as shown above) and Brown with White alpaca (as shown to the right)
Composition: 75% Alpaca, 25% Acrylic
Island Alpaca Company contributes fleece to our local alpaca fiber cooperative for the processing of this blanket
Made in the USA
For our return & exchange policy, click here.
Free shipping for this item and for all orders over $100!