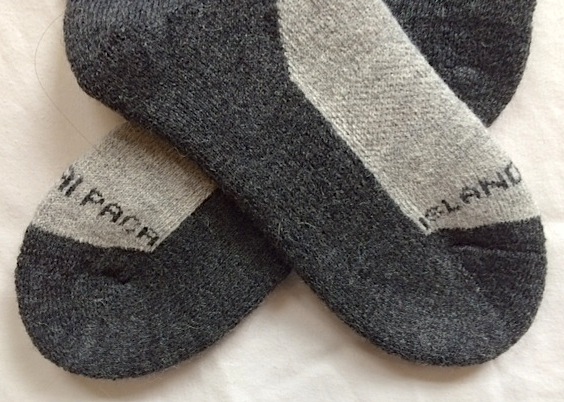 "Best socks in the world. Thank you." M. Lowe, Lowell, MA
"Incredibly warm and love the alpaca on the socks! :) Very satisfied and will purchase again!" -- Amanda, Lake Stevens, WA
GIVE THE GIFT of WARMTH:
Improve your performance with this alpaca sock.
If not for every day use, this sock is well suited for cycling or hiking, snowboarding or skiing, baseball or football, any outdoor endurance athletic sport; a game-changing sock. Get the high performance you want and deserve in this alpaca sock with attitude!
Great thermal properties and made with added soothing, aloe vera protection.
Our Performance Sock offers maximum comfort, durability and very easy to care for!

Composition: 50% Alpaca, 35% Acrylic. Reinforcement: 8% Spandex, 5% Elastic, 2% Nylon.
Color: Charcoal Black/Silver Grey
VIEW DETAILS above for image of the socks interior texture, and product labeling.
Sizing:
Small/Youth: Girls/Womens Shoe: 5 to 7, Boys/Mens Shoe: 3 to 5
Medium: Womens Shoe: 7-1/2 to 9,
Mens Shoe: 6 to 8
Large: Womens Shoe: 9-1/2 to 10-1/2,
Mens Shoe: 9 to 10-1/2
X-Large: Womens Shoe: 11+,
Mens Shoe: 12-13
Free shipping for all orders over $100!
For our return & exchange policy, click here.
Crafted in Peru for Island Alpaca Co.