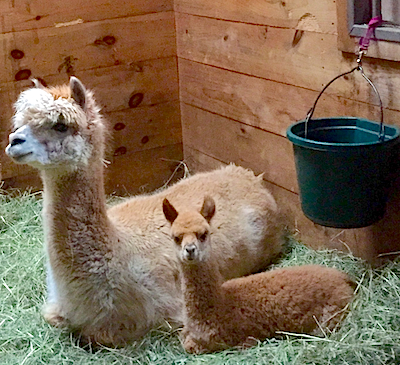 With the help of cria's that have passed, such as "Orion" (shown right with his mom "Olivia" and below) we conduct an educational Alpaca Neonatal Clinic to help others learn how to diagnose and solve any problems that may arise during pregancy, birth along with general neonatal care.
The bodies of the cria that have passed, even though their lives were short, are able to contribute so much to the lives of the cria's of the future. These cria's who have died, did not died in vein, their lives still live on, and with so much meaning. They will live on through the lives of their fellow living cria so that we can better help them to live healthy, happy, long lives.
A little bit about the clinic: Our annual alpaca neonatal clinic welcomes Dr. Dewitt from Ohio. Dr. Dewitt is one of the most respected camelid veterinarians in the United States. This seminar offers a core alpaca birthing and neonatal care to future breeders, experienced breeders and veterinarians alike. Through presentations on female reproduction/breeding; reproductive anatomy/physiology, breeding/pregnancy diagnosis options, gestational development Dr. Dewitt will help alpaca breeders learn what we can do to assist if there is a critical care situation. We feature a wet-lab using uterine simulators and we challenge participants to diagnose the contents of the uterus and discuss a proposed delivery plan, identify and correct dystocias to deliver the cria safely. Invaluable emergency training and reccommended for all breeders.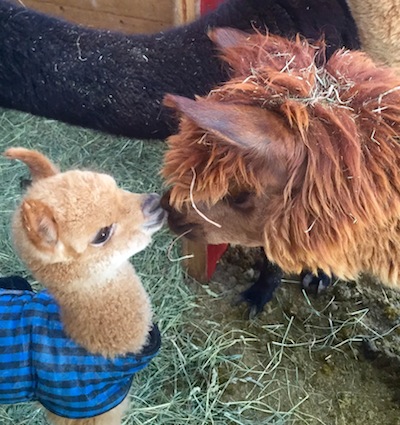 More info about our Alpaca Neonatal Clinic can be found here: Your contribution of any amount, will help support the work to help fund the annual alpaca neonatal clinic: it will help to off-set expenses such as veterinarians fee for clinic, travel expenses for visiting veterinarian, supplies, manuals, staffing. This class is not for profit for Island Alpaca Co., but is meant to offer assistance to new breeders or soon to be breeders. Your contribution will off-set costs and may enable us to lower the clinic fee so that more breeders could participate.
Thank you for contributing to "Orion's Fund" to help support the neonatal clinic in little "Orions" memory.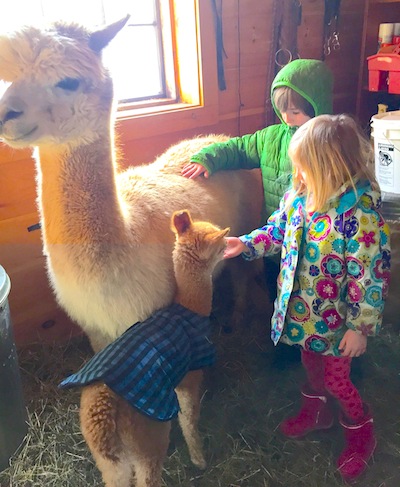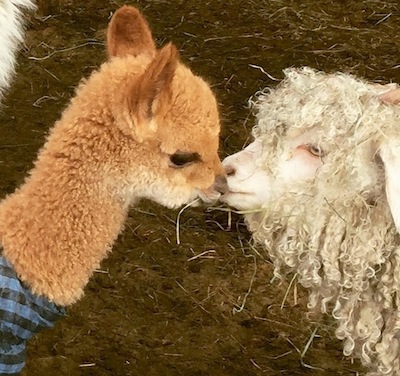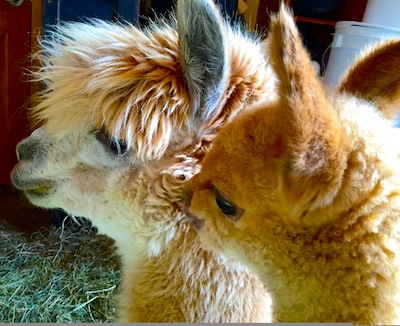 If you or know of anyone who has had a loss of a cria, we may like to "adopt" them for a future clinic. We will care and treat your alpaca with great respect.
We will post weekly on this page the sponsorships made to "Orion's Fund" in Orion's memory. Please indicate if you would like to have your name posted on this page as a generous contributor. Thank you!
Thank you to the following generous contributors and thoughtful comments:
"In memory of Little O." -- love@ModGalFri

"In memory of dear Orion & in honor of Tammy's devotion & love xoxoxo."-- Suzy Fatzinger

"In honor of Tammy White's unending love & dedication she gave Orion from his surprise arrival to the end his short time on this earth." -- Sandy Warner

"To my friend Tammy White." -- From Megan Mayhew Bergman
"In memory of little O, who was a gift to everyone! -- Love, John and Meleen Dupre

"In memory of sweet little O." -- @nancyisdabob
"In memory of Little O, and in honor of Tammy White's devotion to him and the other animals on her farm." - Pat Potenza
"Although many of us only met little Orion online, this sweet little cria stole our hearts. We celebrated his birth, cheered as he overcame his struggles, and now mourn him as if he were ours." -- Michele H. a.k.a @chele.sews.
"In memory of sweet Little O." -- Susan Moore
"In memory of little Orion of Wing & A Prayer Farm" -- Stephen & Margaret Dailey
"In memory of handsome little O" -- Tara Porter