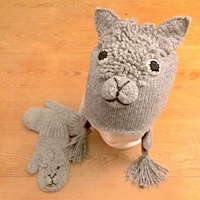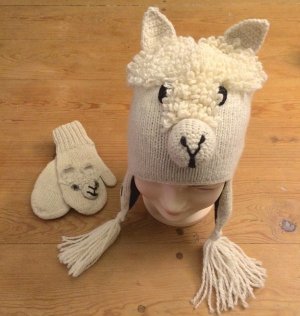 Meet Lotus, our Alpaca Flap Hat for little people!! These handmade, 100% alpaca fabulous alpaca hat make little ones smile! Evidence here, as we just recently met our new friend, Awan, photographed above, who wears his alpaca hat with pride! ( thank you to Awans mom Sarah for permitting us to use this lovely photo!) Liven up pretend play or turn autumn walks into amusing adventures with these adorable animal hats. They are fun to wear, and make everyone happy. For both girls and boys, and now available, adult sizes!
With an added fleece lining they are incredibly warm, and will make wearing a hats, loads of fun.
Choose from other; our tiger-cat, a sly fox, a funny bug-eyed frog, a bashful brown bear, ducky-duck or the bunny, or monkey or get them all for many hours of dress-up fun.
Do not miss the matching mittens for a fabulous set for the chilly winter months!

Size:
Youth: One size fits most children ages 2 to 6/7
Adult: Fits most adults and teens.
Composition:
100% Alpaca, with fleece lining.

Colors: Silver Grey or Ivory
Handmade in Bolivia; work-at-home moms in the Bolivian Andes are paid fair wages to hand knit these wonderfully soft, incredibly warm, lightweight alpaca hats.
For our return & exchange policy, click here.