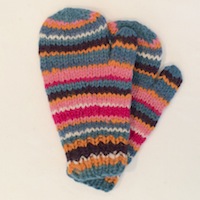 These very colorful, lovingly constructed, handmade hats for toddlers and children are each one of a kind.
Sporting ear flaps, with a special trim and braided ties on each flap. Brilliant! These alpaca hats for youth will be the warmth your child or toddler needs in the chilly season. Unbeatable insulation with the addition of soft polar-fleece lining inside much of the interior. Affordable comfort, and style!
Pair with the matching alpaca mittens for toddlers and children, by clicking here!
Colors: Varying shades of roses and blues as shown above!
Size: One size fits most children ages 2 to 6/7.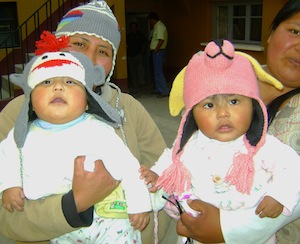 Composition:
100% Alpaca, with fleece lining.
Island Alpaca Labeling
Handmade in La Paz Bolivia; our work-at-home moms in the Bolivian Andes are paid fair-trade wages to hand-knit these wonderfully soft, incredibly warm, lightweight alpaca hats.
Free shipping for all orders over $100!
For our return & exchange policy, click here.