T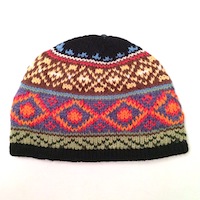 hese handmade and colorful, ultra-thick, fingerless gloves with hoods, are the ultimate in comfort, warmth and style. Handy to use while on computer, or cell phone -- Perfect for texting! Add the hood when added warmth is needed! Wooden button to secure flap, and thumb-hole for maximum dexterity. For men and women. See details aboves!
Consider pairing with our 3 matching hats!
Colors: Black/Multi Color as shown
Size: Fits most adults and teens.
Composition: 100% Alpaca
Handmade in Bolivia; work-at-home moms in the Bolivian Andes are paid fair wages to hand knit these wonderfully soft, incredibly warm, lightweight alpaca hooded gloves.
For our return & exchange policy, click here.