If weather is questionable day of class, please check status here at 9 am the day of class.
If rain is certain, class may be delayed or scheduled for another day!
Please note before you make your reservation: Cancellations or changes may be made up until two weeks prior to scheduled class for online or in-store credit for a future class only. No refunds if cancellation occurs within two weeks. Sorry, no public restrooms - but we do have a porta-potty. Please plan accordingly!
We are excited to have you join us for Alpaca Yoga! Alpaca your bags and join us for Alpaca Yoga!

Yoga Mats (New): To save time, they may be purchased online this page or HERE (Click #4 for shipping, to pick up day of class), $15.
Program fee includes complimentary admission to the farm!

Call if you have any questions on how to order: 508-693-5554.
YogiJay (Jason Mazar-Kelly) is an experienced yoga teacher who has practiced and trained in various traditions, styles and lineages. He began practicing yoga in 2011 after years of struggling with moderate to severe OCD (Obsessive Compulsive Disorder). After a year of daily yoga and meditation practice, the everyday impacts of OCD began to fade away. After years of struggling with OCD he finally found a long term solution and after just a year of practice, was able to let go of medication and was fully medicated on yoga and mindfulness based therapies. In going through this transformation, Jason was inspired to give back the gifts the practice had given him.

In 2014 Jason completed his 200 hour certification at the Kripalu Center for Yoga and Health and has since then returned to Kripalu and other schools for advanced trainings and studies. Today he has thousands of hours of teaching and training experience and teaches yoga full time on Martha's Vineyard as well as leads workshops around New England.

The style of practice that will be offered during these session is a Hatha Yoga Hybrid practice where students work with both static and dynamic movement integrated with breath to facilitate release in not only the physical body but also mental and emotional bodies. And, you get the added benefit of doing all of that in the soothing presence of Alpacas!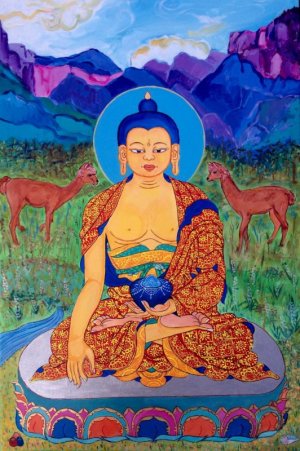 Practiced for over 5,000 years, yoga is a total mind-body workout that combines strengthening and stretching poses with deep breathing and meditation or relaxation.
To experience Alpaca Yoga first hand at Island Alpaca, bring your own mat or purchase one of ours (purchase here online) and safely enjoy a stress-relieving hours with our mild mannered, calming critters. Do not forget your camera, as after the session there will be a meet and greet with these gentle alpaca.
Jason and Island Alpaca welcome all levels of practitioners as yoga and spending time with community, animals and nature should be accessible to all. Payment can be made by here at AlpacaYoga.com.
All levels welcomed and children under 14 may participate with accompanying adult. Session is $35 per person per session. $15 should you wish to purchase a mat. Payment can be made by telephone, online at AlpacaYoga.com, by check, or in person at the farm. Online registrations should be made 24 hours in advance of class date.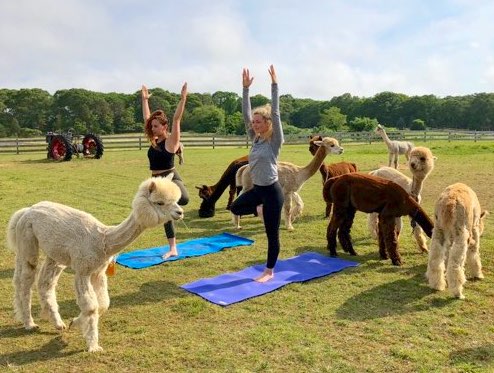 SUMMER 2023 DATES:
Select from dates starting Saturday, May 27! Select Saturday's in June, Tuesdays and Friday's in July and August, Saturdays in September. See drop-downs for dates.
Dates subject to change.
Additional classes may be added!
Pre-registration: Pre-registration required, walk-ins by chance.
Online Registrations: Please choose your date on the drop down tab to indicate your choice participation date. Please, in the note section at check-out your second choice date if you have one. We will contact you if space is no longer available.

Special note: at check-out for "Shipping" simply choose option #4 for special events. If you have any questions contact the farm during business hours, 10 am to 4 pm daily: 508-693-5554.
Registration/Waiver Form: Please find You will be asked when sign our registration form upon arrival! Please arrive 20-25 minutes before class time to check-in! *Minimum class size may apply. (We will call you if minimum class size is not met)
Yoga Mats: New yoga mats can be purchased online HERE or in the farm store upon arrival for $15. They are 24" X 68" and are 4MM thick. Very popular, durable and are latex, lead, phthalates and heavy metal free. Feel free to bring your own yoga mat or towel.

Please note: Cancellations or changes may be made up until two weeks prior to scheduled class and for online or in-store credit for a future class only. No refunds if cancellation occurs within two weeks, so please plan accordingly. In case of rain, you will be issued a credit for any future class dates. If weather is questionable, please visit this page the night before and morning of, to verify if the session is a go, and always feel free to reach out with any questions or comments you may have.
We would also like to suggest to our Yoga enthusiasts, our Walk & Talk Please visit this link here for more information. Reserve early to secure a space!


Some recent comments: "Yoga with the Alpacas was so much fun! Definitely will be back to do it again!" - Lisa
"Such a fun side trip for us to explore farmland on Martha's Vineyard. A very therapeutic experience, the alpaca's are very sweet and docile and the staff went above and beyond to make this a great experience for everyone. Highly recommend the experience. You don't need to be experienced in yoga, we did extra stretches and moves as it's a basic yoga moves and all about being outside with the alpaca's in a farm setting. Also has a great gift shop." - Missi