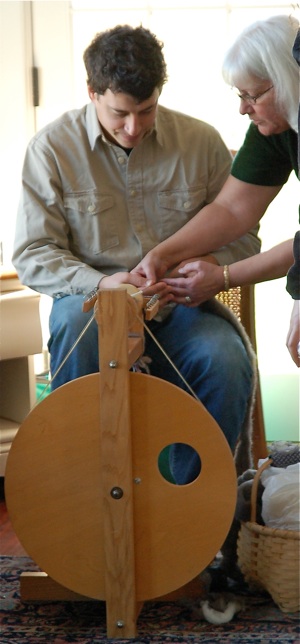 This spinning wheel is the very original Louet with minor modifications to keep it on the leading edge of spinning technology.

The Louet S10's careful design has proven to be an ideal wheel for beginners and experts alike. Sturdy construction makes it a suitable wheel for production spinners.
This spinning wheel normally retails for $590. (Island Alpaca Co. always discounts wheels 5% from the manufacturers suggested retail price. *See below for additional shipping charge)
At Island Alpaca, this spinning wheel is used during our spinning classes, to demonstrate the ease of use with the Louet wheels as seen in the photograph below, with one of our instructors.
The single hole in the wheel leads to a balanced flywheel, which ensures that the wheel always stops in the place that you stop. Constructed with solid lacquered wood. Accessories available for the S10 include: skein-winder, distaff, a four bobbin lazy kate, high speed bobbin, factory bobbin, flyers, and various spare parts.
Light assembly required. The shipping weight is 17-18 lbs.
Wheels are made of laminated hardwood with a "birch" exterior finish.
---------------------------------------------------------------------------
For over a quarter century, the Louet team in Holland has been researching, designing, experimenting, and consulting with you, the customer, to create a superior line of spinning wheels.
Louet spinning wheels treadle lightly, are low maintenance and nearly adjustment free and can be modified with accessories for the expert spinner.
Technically all Louet models are the same. Each spinning wheel has a single belt bobbin drive with an adjustable flyer brake to regulate the tension. The flexible belts are made of polyurethane and never have to be adjusted.

*Additional shipping and handling fee of $25 to $35 applied to purchase price, after check out. Island Alpaca Farm offers spinning classes. Please inquire for private lessons - wheel rentals offered for a small fee. Wheel rental credited towards your purchase of wheel.
**No discounts may apply on any spinning equipment.
For our return & exchange policy, click here.