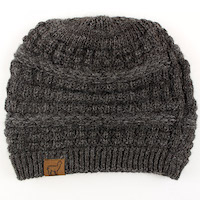 Island Alpaca is proud to feature a newly created, uniquely textured, uni-sex beanie, with a slouchy silhouette.
The textured slouch alpaca beanie is made from the softest U.S.A Grown Alpaca and features an all-over, contrasting rib and cable knitting, using natural, non-dyed alpaca yarn, which creats a subtle, three dimensional design.
The slouch beanie has that hip, loose look on the top while still keeping your head warm in a wide range of conditions. The internal headband area features a micro-fleece lining, helping to keep the hat sug on your head and blocking wind on your forehead, ears and neck. The top of the hat stays breathable so you feel comfortable while staying active in the great outdoors. This hat is finished with a faux-suede, sewn-on tag, bring the hat and the alpaca-brand itself, to new heights.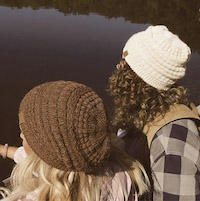 The design of this hat is to be as stylish as it is warm and cozy and we could not be happier with the results!

Consider adding a Baby Alpaca fur pom to add a burst of fun and style! Special note: Poms are tied on in a way that they can be removed easily so that you can wash and give you flexibility to put the pom on other hats if you desire!
The store behind this home-grown product is as good as it feels. The naural and renewable alpaca fiber used to make it, is grown by small USA alpaca farms. Century-old textile mills spin this fiber into yarn and the fourth generation family run knitting mill, knits the fabric. Then the fabric returns to our cooperative where it is sewn and the fabric is turned into a finished hat.
For Men and Women!
Fiber Composition: Outer Shell: 80% USA grown alpaca, 20% Recycled Nylon. Inner Headband Lining: 100% Micro-fleece.
Colors: All Natural Ivory, All Natural Charcoal Grey, Heather Brown
Care: Hand wash in cold water, lay flat to dry.
MADE IN THE USA!