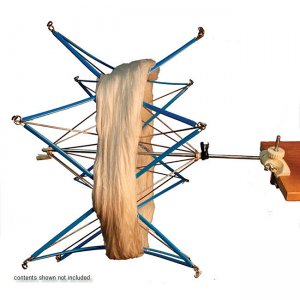 Shop Online > Wheels, Looms Etc... > Umbrella Swift (Metal/plastic)

Umbrella Swift (Metal/plastic)
$59
Early domestic tasks often included holding a skein of yarn in outstretched arms while our mothers, sisters, or aunts expertly wound the yarn into a ball. If a gentleman suitor was willing to hold skeins for his beloved, marital bliss was almost guaranteed.
For our return & exchange policy, click here.
But today's picture has changed to one of greater solitude, with busy schedules and not-so-willing suitors. Some knitters resort to draping yarn between chair-backs, an often flawed approach. Others simply lay the skein on the floor and patiently rotate themselves around it, stopping repeatedly to untangle the yarn. A far better solution is the umbrella swift, an ingenious little device for holding skeins under tension so you can unravel them and easily wrap your yarn into balls.

How it Works:
There are several types of swifts. The most popular one works much like the inner workings of an umbrella, hence its name, the umbrella swift.

A center pole clamps onto a table. The pole holds several crisscrossed arms that sit flush to the pole, like an umbrella.

As you push up the pole from the bottom, the arms slowly extend outwards. The entire umbrella mechanism floats on the pole so that it can spin freely as you unwind the skein and wind your ball.

The Adjustability Factor: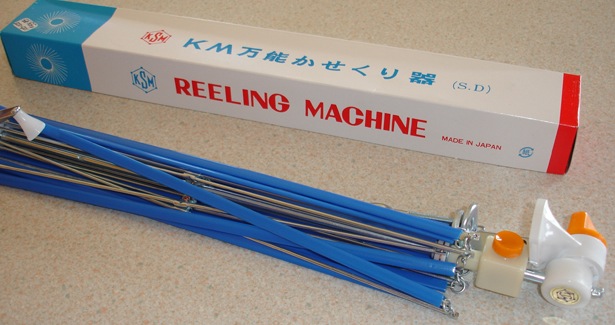 The swift is infinitely adjustable to hold a skein of any circumference. Once you've reached your desired size, just tighten a screw and the swift is secured.

In the past, there was little need to be able to adjust your swift beyond one or two settings. But today, since we use skeins from all sorts of places, the ability to finely adjust your swift to any skein size is important.
Color may be orange or blue as shown above.