An unsolicited comment:
"Hi
Barbara,
book has arrived. It is really delightful. The grand children are going to love it.
Many thanks "
Susan, Hamilton, New Zealand
This first-ever, hard-cover children's alpaca story-book is the story of an alpaca, her envious companions, her awesome fleece and the children who love her.
It is truly a delightful, beautifully illustrated children's book that promotes the alpaca. A charming addition to your child's library.
In Josephine's herd winning is everything. But all that matters to Josephine is the love of the children who own her. A love she believes must be earned by winning a blue ribbon. Yet Josephine is never given the opportunity to compete in an alpaca show. Unaware of her spectacular fleece, she is puzzled when the other alpacas begin to tease her. Josephine is convinced she is no longer wanted. In a desperate attempt to prove her worth, Josephine finds the true meaning of love.
Contains a section "About Alpacas" and an "Alpaca Terms" page.

Hard-cover, 36 pages. Dimensions: 10 1/2" x 9" x ¼"
Sample pages below.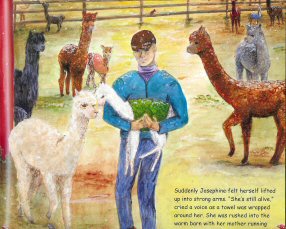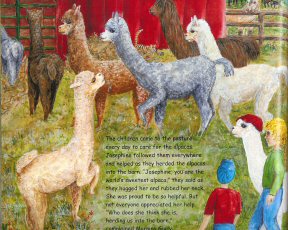 Pictures are copyrighted and are the property of the author and the illustrator. Pictures may not be copied without permission of the author and illustrator.

For our return & exchange policy, click here.