This fabulous toy is an educational puzzler that we keep in our alpaca viewing area at our farm for visitors to enjoy. It is extremely popular, everyone has to try it! So popular that one day it disappeared! It had been placed in a customers handbag (to her surprise, placed there, unknowingly by her young son!)
The goal: To remove the ring.... and it CAN truly be done!
The horseshoe puzzler is a real challenge, and will provide loads of entertainment, for young or old! Sold with a supple, faux-suede sack for carrying.

The Solution:
No cheating please, until you have tried yourself!!
The following four steps show how to remove the ring from two conjoined identical metal horseshoes: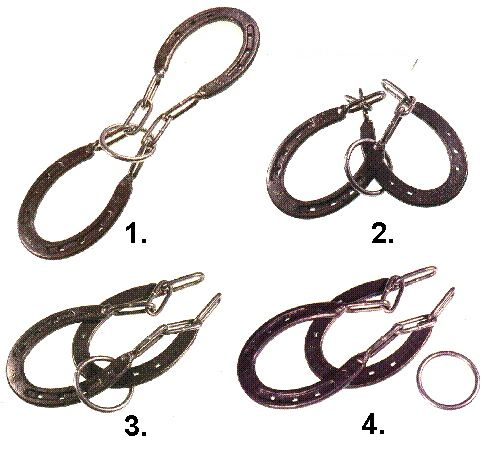 Make sure that horseshoes are rotated so that the right shoe is upside-down and at a right angle compared with the left shoe. Also place the ring in the position shown in photo below. Then follow steps 3 and 4 and the ring should slide off.
If you are really stumped, you have permission to watch this video ;o)

The original horseshoe puzzles were made by blacksmiths around the turn of the century for kids. Kids love them!!