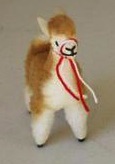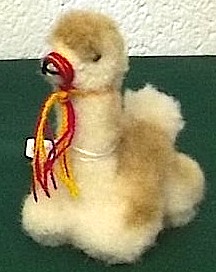 These alpaca replicas (made with sheeps wool), are very soft, and have the most endearing faces -- much cuter in person! Available in five sizes. Purchase one, or collect all five and have your own herd! Save when you purchase one of each size.
*Not recommended for young children.
See below.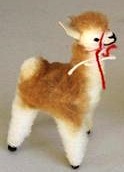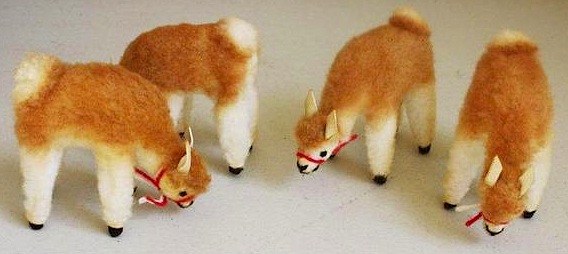 Sizes:
Small Standing:
3-3/4 inches (shown left)
Medium Standing:
5.5 inches
Large Standing:
8 inches
Small Sitting:
2-1/2 to 3 inches (shown upper right) (Out of Stock)
Small Grazing: 3 inches (shown right)

Collect the entire herd and save!
Set of four to include one of each alpaca.
Composition: Lambs Wool
Imported from Peru
For our return & exchange policy, click here.
Special Notice: Due to the nature of this product, adult supervision required for young children. If this toy or any toy ordered is intended for a young child, please assume the following warning applies: Warning: Choking Hazard due to small parts. Not intended for children under 3 years of age. Remove all hang tags and their fasteners before giving this product to a child.
Warning for Pets: Our stuffed animals are not intended as toys for dogs or cats or other household pets. Pets that play rough can tear out plastic eyes or rip open animals. Both the plastic eyes and stuffing inside can pose a potential health hazard for pets. When dogs and cats play with stuffed animals—even those marketed specifically for pets, it's important to monitor the wear and tear on an ongoing basis to keep your pet healthy and safe. Click on the following hotlink to the American Humane Society to learn more about Pet Toy Safety: http://www.humanesociety.org/animals/dogs/tips/dog_toys.html