Hand-carved Gourds represent centuries of rich textile traditions in Peru. Each gourd is hollowed and dried before work can begin by the Artesano's. When hot air is blown through a hollow Eucalyptus branch the gourd is scorched and ready to be carved using typical wood working tools.

Hand-crafted and painted by the Artesano's in Peru, this item beautifully fuses two major themes prevalent in South American life: Catholicism and the alpaca.
The first variety, as shown above, is an ornament. A gourd, hollowed to house a manger scene. ($13.95) Size: Measures appx. 3-4 inches wide, by 3-4 inches tall.
(Below gourds sold-out for 2017)
This beautiful two-sided gourd, as shown to the right, is halved, and hollow inside to house nativity manger scenes including alpaca. ($18.95). Size: Measures appx. 3-4 inches wide, by 3-4 inches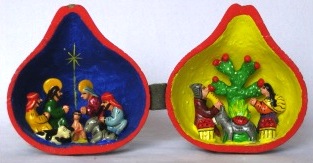 tall.
Finally, this medium sized gourd, as shown to the left, is carved as an owl on the outside surface which house the nativity scene inside. ($19.95)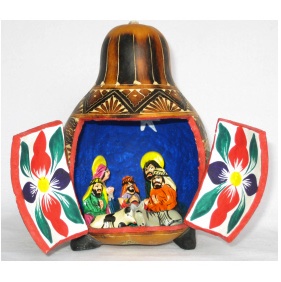 These make terrific gifts for the future holidays!
Size: Measures appx. 4-5 inches wide, by 4-5 inches tall.
Each piece is unique. Colors may vary from these images
Imported from Peru.
For our return & exchange policy, click here.