An unsolicited testimonial:

"I just received the alpaca fur teddy bear that I ordered for my daughter and I had to tell you that I am THRILLED with it! It is absolutely perfect and I know she will fall in love with it on Christmas morning! Thank you so much!! Also, I am very impressed by how quickly I received my order!

Thank you for everything. Sincerely, Francie K.

"
Get lost in the softness of this family of 100% baby alpaca fur Teddy Bears are especially soft, and very squeezable! These veritable cast of characters are handmade, and each is one-of-a-kind with unique patterns and personality like the alpacas themselves.
Start your own private collection of our Teddy Bears or consider them as a very personal gift, perfect for any occasion. These furry creatures have been known to be wonderfully received "get-well soon" offerings, or more simply, a gift of cheer!
Colors: View OPTIONS above. White, Fawn (shown right), Rare Brown

Special note: Not one bear is alike, so there may be slight variations in color and size!
Sizing: 16-18 inches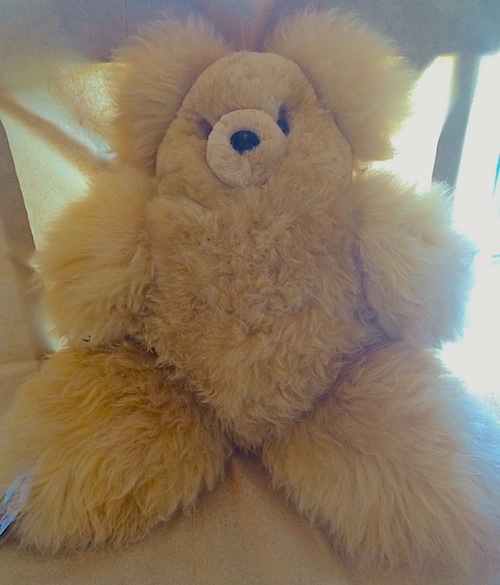 Alpaca Fur Care:
Brushing: You may gently brush your alpaca fur product with either a bamboo or plastic bristle pet brush or a hairbrush. We suggest avoiding wire brushes. This works particularly well should it get matted from handling over time.
Storage: Should you wish to store your alpaca fur product, avoid direct sunlight and store it in a cool airy place. Storing your in plastic bags for any length of time is not advisable. You want your fur to be able to breathe and using plastic bags prevents this. In addition, condensation may occur in warm conditions if plastic is used.

Cleaning: Alpaca fur is not machine washable. It should not be submerged in water. Ideally, your alpaca fur product would need to be taken to a professional furrier/cleaner to be cleaned. For spills or spot cleaning, a sponge with a mild soap and water solution will work best. Make certain that you don't get the leather wet by using so much liquid that it penetrates through the fur, down to the leather. You can let it air-dry or use a hair dryer on a low-temp setting and use a soft brush to re-fluff.
Periodically using a talcum powder can help to keep your alpaca fur smelling fresh.
If your product should get wet, you can let it air-dry or use a hair dryer on a low-temp setting and use a soft brush to re-fluff.
Special Note: Our fur bears, other toys and other fur products are made of real alpaca fur. No alpacas are harmed for this purpose. Due to enviromental conditions, the mortality rate for alpaca is very high in south america, and the alpaca fur is used to help compensate for the loss.
For our return & exchange policy, click here.

Imported from Peru.
Special Notice: Due to the nature of this product, adult supervision required for young children. If this toy or any toy ordered is intended for a young child, please assume the following warning applies: Warning: Choking Hazard due to small parts. Not intended for children under 3 years of age. Remove all hang tags and their fasteners before giving this product to a child.
Warning for Pets: Our stuffed animals are not intended as toys for dogs or cats or other household pets. Pets that play rough can tear out plastic eyes or rip open animals. Both the plastic eyes and stuffing inside can pose a potential health hazard for pets. When dogs and cats play with stuffed animals—even those marketed specifically for pets, it's important to monitor the wear and tear on an ongoing basis to keep your pet healthy and safe. Click on the following hotlink to the American Humane Society to learn more about Pet Toy Safety: http://www.humanesociety.org/animals/dogs/tips/dog_toys.html