Our "Roberto Alpaca & Farmall Tractor Puzzle" is the first of our new custom Island Alpaca Puzzles! These puzzles are the quintessential puzzle for alpaca lovers, and puzzle lovers alike! The are the highest quality of puzzle you can find on the market today.
These puzzles are classic, wooden, jigsaw puzzles, made with quarter-inch maple plywood and the finest archival paper and inks on the market today. No two pieces in any puzzle are alike, and each puzzle features dozens of intricate, charming whimsy pieces. Please View DETAILS above to see some of our sample pieces and the full puzzle copleted below!
What is a Whimsy Piece?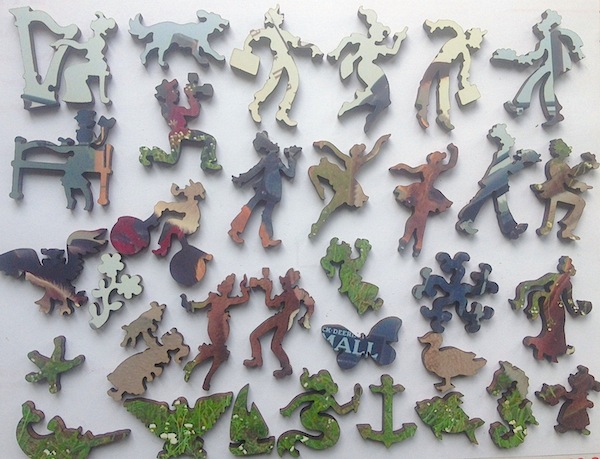 Whimsy pieces are cut in the shapes of recognizable objects, such as characters, animals, or complex geometric shapes. All of our puzzles contain as many whimsy pieces as we can fit, usually comprising 15-20% of the total. That's a lot of whimsy pieces! The whimsy pieces are themed to the puzzle image. Sometimes whimsy pieces are located near each other as part of a group of characters (interrelating whimsy pieces) or are made up of several interlocking pieces (complex whimsy pieces).
You will find mermaids, starfish, seahorses, sailboats, anchors, butterflies, photographers, musicians, bicyclists, running dogs, ducks and more!!

Our whimsy pieces and puzzle cut patterns are all hand-drawn by our designer. Customized puzzles available. Please inquire.
You will LOVE doing this one-of-a-kind special puzzle!
Made in USA.
Sizes:
Large: 458 pieces, 12.75 inches x 17 inches