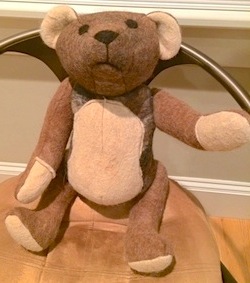 These Alpaca Felted Teddy Bears are handmade so no two are alike.
These special critters are filled with personality like our own alpaca. They are made with 100% alpaca wet felted sheets made with our own Island Alpaca---A Hand-felted Teddy made with our own alpaca!
Contents: 100% Alpaca, stuffed with 100% polyfil.
Size: These stand around 16 to 18 inches tall with moveable joints and head.
For Home Decor / Collectable.
PLEASE NOTE: These alpaca Teddy Bears are meant for very gentle play or to sit on a mantel, or rocking chair. They are not ideal for young children. Consider them an heirloom piece! Best not to be used for everyday play and excessive handling.
Warning: These Alpaca Teddy Bears are terribly CUTE! :0)
Island Alpaca Farm labeling
Made in the USA!