Dom Perignon was awarded a blue ribbon at the 2009 Empire Extravagnza show in New York. and ribboned (2nd Place) at the 2008 New England Coast Classic in very impressive class of 9, and again, a second at the 2008 Empire Extravaganza. AT THE 2009 New England Coastal Classic Show, the judge commented on how Dom had the finest fleece in the class! Most recent fiber sample (August 2008) reveals the same fiber diameter.. the exact same, 17.7 = Super fine!

With a perfect disposition, Dom is very easy to handle, likely one of the most "hugable" in the herd.

Take advantage of his very low stud-fee now.
Mobile breedings available.
For more information or photos please email us at info@islandalpaca.com. Thank you!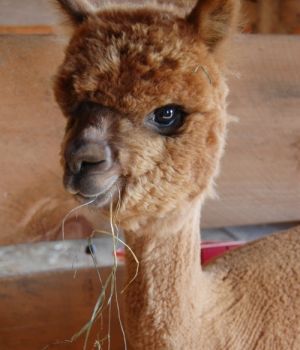 Type:
Hu
Gender:
Male - Herdsires
Status:
Proven
Birthdate:
September 13, 2007
Heritage:
1/4 Chilean, 3/4 Peruvian
Registration:
ARI
ARI#:
30882256
Color:
Dark Fawn
In Service Since:
Reserve now for your spring breedings!
Price:
$8,000/$5,000 for half interest.
Stud Fee:
$1,500, $1,000 for drive-by breeding
Download PDF Certificate:
Certificate-Coco.jpg
Lineage:
For lineage records, please click here.
Fiber Analysis:

Micron Count

2008: 17.7 Micron


Awards:

2009 Empire Extravaganza: First Place, Dark fawn, Adult Male (Judge: Amanda VandenBosch)

2010 PAOBA Breeders Showcase: Second Place, Fleece Huacaya Light Fawn Male Yearling

2009 Michigan International Alpaca Fest: Second Place, Fleece Huacaya Light Male Juvenile


2008 Empire Extravaganza: Second Place, Dark fawn, yearling male (Judge: Charlene Friedman)- Class of 11.
2008 NECC Show: Second Place, yearling male,
(Judge: Kristin Buhrmann)- Class of 5

Breeding History:
Dom began his breeding career, early 2010.

Histogram:(click for larger view)