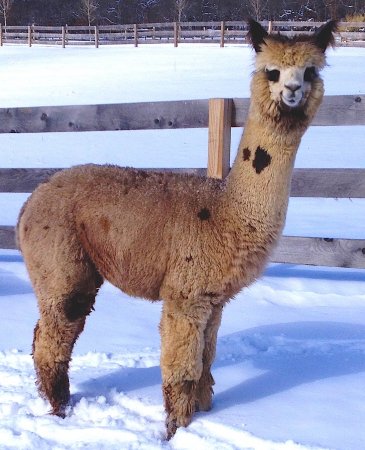 ARI#: 32755732
Heritage: 1/2 Peruvian, 1/2 Chilean
Color: Light Silver Grey
Silver Angel has won four First Place ribbons so far for 2016!

Silver Angel is one not to miss when anyone comes to visit the farm. Silver Angel, just like her sisters and brother: Angelica, Angelito, Anika, and Penelope look just like their dam Angelina, a champion and blue ribbon winner.
She's a gorgeous young alpaca with a beautifully tight crimped and very bright classic silver grey fleece. It's very fine and has great uniform! It also lacks many of the black fiber you see mixed in with grey fleece. Her fleece is absolutely beautiful!

Silver Angel, just like all of her siblings and dam, have an almost perfect phenotype! They have great conformation with a strong frame, they are thick-boned, have impressive top-knots, nice thick short muzzles, and overall a beautiful and pleasing look. Angelina seems to have very strong genetics! Her sire is Magic's Talon who has won a champion and multiple blues.
She's a very sweet and patient girl who loves to be out in the pasture and spend time with her best friend, Lotus. She's very easy to handle and is one eye-catching alpaca!
Currently Silver Angel is due for a June 2017 cria, sired by Revelation (Double Dee Revelation)!
---
Judge comments:
2016 Big E Alpaca Fleece Show judge Arturo Pena commented: "Excellent fineness and brightness! Nice handle for the age class."
Fleece Score Highlights: Fineness/Handle, 19 out of 20. Length, 6 out of 7 possible points.
2016 MAPACA Jubilee Spin-Off judge Diana Timmerman commented: "Super bright and lustrous! Love the tiny little rose streaks here and there. Locks open beautifully. Outstanding drapw in this yarn - very soft and silky."

Fiber Criteria Highlights: Uniformity of Length, 4 out of 5. Uniformity of Micron, 4 out of 5 possible points.

Spinning Criteria Highlights: Ease of Carding, 5 out of 5. Ease of Spinning, 9 out of 10 possible points.

2016 North American Alpaca Show Judge Helen Testa commented: "She is a really well proportioned female. She's got great substance under her. Really nice substance and really balanced in her frame. Nice level on that top line. She's really carrying a really nice fineness relative to her age. Really good rate growth as well as the organization. She's still carrying that, so it's always pleasing to see that as they grow older."
2016 North East Alpaca Expo Judge Peter Kennedy commented: "This female is very worthy of first place. Conformation is very correct, really balanced. Walked up very squarely. Looking at the fleece, the fleece is very fine for her age and it's quite consistent in micron. Giving it a really soft handling fleece and carries out very well into the extremities. Very worthy first place."
2016 Southern Select Spin-Off Judge Judy Keske commented: "Very pretty color and shine. Very Pretty Yarn. I love this color! "
2016 TXOLAN Spin-Off judge Roo Kline commented: "Ends of locks are SUPER BRIGHT and lustrous. Very consistent within lock as well as across sample. Very enojyable to spin. Silky to the touch. Very pretty lustrous yarn."
---