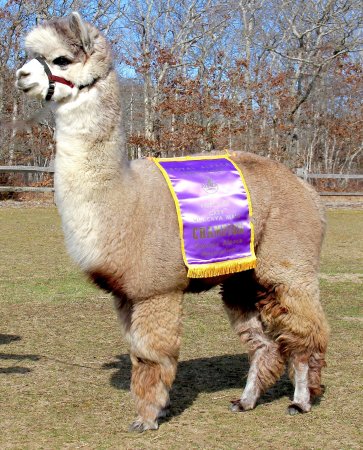 ARI#: 32137248
Heritage: Peruvian/Chilean/Austrailian
Color: Medium Rose Grey
Double Dee Revelation is a six time Color Champion and a super grey herd sire. He is a spectacular grey creation of style, presence, conformation, highly advanced fleece and profound genetics. His grey genealogy is unmatched and the breeding is proven.
Revelation's evolution descends from a remarkable lineage beginning with his sire, the multi-champion grey stud, Snowmass Enlightenment who is sired by the multi-champion Snowmass XXXtreme, who is sired by the multi-champion Snowmass Royal Rose. Revelation's dam's lineage begins with her multi-champion grey sire, Legend's Challanger of KPR and his sire is the renowned Inca Legend. This result of selectively crossing these phenomenal bloodlines is no surprise as Revelation's full sibling is also a color champion.
Revelation has multiple confirmed pregnancies and is the ideal seed stock to create a revolution in grey alpaca breeding. If you are looking to add the highest level of grey evolution into your breeding program, look no further than Double Dee Revelation!
Judge Comments:
2016 Big E Alpaca Fleece Show judge Arturo Pena commented: "Good degree of fineness for the age class."
2016 North American Alpaca Show Judge Amanda VandenBosch commented: "He's quite compact in his frame. When you look past down the fiber on his legs, you look at the substance of bone underneath him. That substance of bone meets the rest of his frame size. He's a moderate sized alpaca overall. You can see he's very proud, his overall presentation as well. He carries through with a very nice length to his staple, but he's maintaining also the overall handle to his fleece. He's just shy of four years of age and he's maintaining a good fineness within that fleece and within the fibers showing overall a consistency which relates also to the handle and hence his first place position."
2016 North East Alpaca Expo Judge Jude Anderson commented: "The clear winner. He has a finer fleece. It's more uniform in micron and caring a greater degree of density across that blanket as well, on a frame that is well built, strong, well proportioned and balanced."