Pietro is a super fine alpaca. (he was 18.5 Micron at 1-1/2 years old, and just at 21.5 at nearly 3 years of age.) With incredible luster, and very high frequency crimp Pietro is abundantly covered with this fine fiber from his top-knot to his toes. (You can also find one Histogram under the certificate)

He is SOLID medium fawn color, with a grey face,and masculine head, true to huacaya-type with incredible coverage, topping a conformationally correct frame that is well balanced.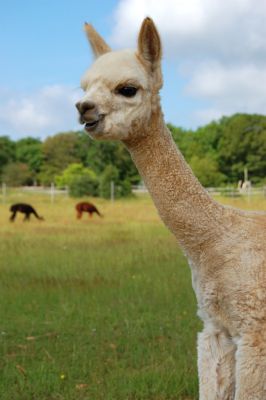 Pietro's first cria have arrived in 2008. He has thrown color; from Bay Black, to Beige, and colors in between! His first off-spring was a healthy bay-black female, named Aquinnah, see below-left, out of Bay Black, Skyeview's Molly, and another super-fine, fawn male, named Moshup, image to the right, out of our brown alpaca, named Carlie Rose, a light fawn named Rosa Bella, see blow right, out of Platinum's Zora, and finally, a dark brown male, named Trevi out of a True Black, named Twilight.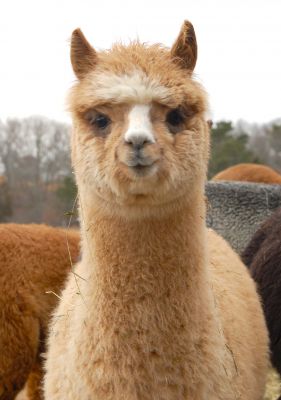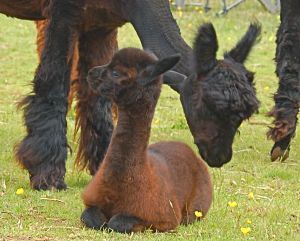 We are proud to offer his genetics at Island Alpaca, and now with his progeny on the ground, we are now offering Pietro for sale.
*Sold with 2 retained breedings.

Type:
Hu
Gender:
Status:
Proven
Birthdate:
10/05/05
Heritage:
1/2 Peruvian, 1/2 Chilean
Registration:
ARI
ARI#:
308882270
Color:
Medium Fawn
In Service Since:
2007
Price:
SOLD!
Stud Fee:
SOLD!
Download PDF Certificate:
Island_Alpaca_Company.Pietro.18.5.jpg
Lineage:
For lineage records, please click here.
Fiber Analysis:

Micron Count

2007: 18.5

2008: 21.4

Awards:




Breeding History:




Histogram:(click for larger view)