Sire: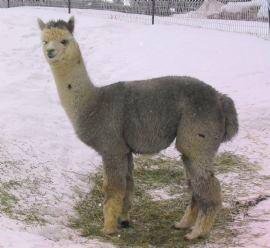 ARI#: 30321649
Heritage: Full Chilean

Color: Medium Silver Grey

Each of Talon's first offspring took either a first place, Blue Ribbon and/or a Color Championship, to include September, 2010 at the Big E Alpaca Show. Lunette, (Seven alpaca in her class) took a first-place blue ribbon, and even more outstanding, a color champion banner for all browns with over twenty alpaca in total. Once again, Lunette took the blue in the "Bred and Owned" class, showing in a class of fifteen -up against the best of the best, including white blue ribbon winners! Very, very impressive for a brown! Talon's Purl, another offspring from 2009, took a blue, first place win, in her class of grey yearlings.
Kudo's to Talon-with award-winning fiber that is just outstanding - which we know now, he passes along to his offspring! It's incredibly dense, with amazing character and high-frequency, tight, even crimp (from skin to his tips), fineness and luster! Add to that an absolutely even in color, spot-free blanket. Talon is the picture-perfect grey.
Talon, at the Alpaca Festival of Oregon, 2010, took the Reserve Color Championship for his fleece, with 16 alpaca in the competition, ten juvi's and yearlings included. Talon was the oldest with the exception of one competitor. Impressive for five years of age!

Amanda VandenBosch judging, gave him a 19 out of a 20 point score for fineness and handle, commenting "good evenness on fleece!" An amazing win = amazing fleece = amazing herd sire!

At another competition, Judge Wade Gease placed him third and added that the three top placing males all were quite even (First place winner was A.L Paca's Revolution) and that he actually preferred Talon's fleece. Talon placed third due to his adult teeth coming in, and Judge Gease said that with males so close he had to start to look for things in order to place them.
Judge after judge comment on his build, and very even crimpy fleece! With Colorado genetics, and 12 grey's in his ARI, he's will likely add some great quality to your grey or colored breeding program!
Talon won first for his fleece at the Green Mountain Fall Spectacular of 2012! Judge commented, "Exhibiting good fineness, handle and character. Excellent!"