Neonatal clinic with Dr. Cheryl Dewitt - April 2011
2011

2011

2011

2011

2011

2011

2011

2011

2011

2011

2011

2011

2011

2010: Dr. Cheryl Dewitt morning presentation

2010: Dr. Cheryl Dewitt explains how to best feel what cria parts are present in the uterous

2010: Dr. Cheryl Dewitt explains how the uterine simulator is used

2010: Identifying the esophagus vs.trachea in an alpaca

2010: Explaining how to best "tube" a cria should the cria refuse a bottle and/or not have a suckle reflex.

2010: Understanding how far the tube should reach

2010: Michael, David, and Sandy observe

2010: Understanding what is what!

2010

2010

2010

2010: Phoenix from Island Alpaca get the first hands-on

2010

2010

2010

2010

2010

2010

2010

2010

2010

2010: David Rose of Moonlit Rose Alpaca investigates...

2010: Eric DeWitt, A.K.A. Llama-Feeder!

2010

2010

2010

2010: Phoenix Russell positions herself to form a birthing strategy.

2010

2010

2010

2010

2010
Our alpaca Neonatal Clinic is comprised of a morning of lecture with power-point presentations, and an afternoon of hands-on "wet lab" for each registrant.

The morning lecture covers female reproduction/breeding; reproductive anatomy and physiology, breeding and pregnancy diagnosis options, gestational development, care of the pregnant dam, normal and abnormal criation and care of the newborn as well as the high-risk cria.
If you are interested in attending a future Birthing/Neonatal Clinic, please let us know, and we can contact you when the next clinic is scheduled! It is tentatively scheduled for April 2012. Reserve your space early, as 2011 was a full class!


---
Island Alpaca is proud to host a birthing and neonatal clinic with Dr. Cheryl DeWitt, DVM from Ohio. This clinic is a must-have for all future breeders, experienced breeders and veterinarians. Other livestock breeders will certainly benefit from this seminar.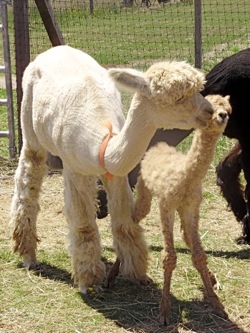 Enjoy a morning lecture with presentations, on female reproduction/breeding; reproductive anatomy/physiology, breeding/pregnancy diagnosis options, gestational development and much more! Afternoon wet-lab using uterine simulators, will challenge registrants to diagnose the contents of the uterus, discuss a proposed delivery plan, identify/correct dystocias to deliver the cria safely. Invaluable emergency training, and a lot of fun!

Course-book, breakfast and lunch provided. Class size limited to optimize learning. 9:30 am-5:30 pm. $200, and $150 for additional participants from the same farm. (Repeat a class, for just $100) The price of the workshop is refundable should the attendee purchase alpacas or breedings to any of Island Alpaca fully-owned herd sires.

Register here.