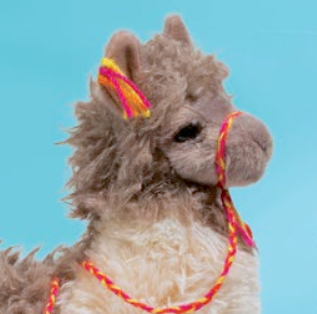 Our newest plush cuddle toy, "Boondocker", is a soft, very soft, cuddly, alpaca with distinction and loads of personality.
"Boondocker" is a true-to-life alpaca (or llama if you like) plush toy, with long eyelashes, and has similar markings to Island Alpacas own alpaca "Boondocker" who is a very friendly grey and white male in our herd!
Beautiful detail and embellishments including his colorful ear tassel, similar to the identification tags used in Peru! Utra-realistic, super soft and cuddly.
Size: 11 - 12 inches tall.
Best for ages 36 months and up. All man-made materials; pattern may vary slightly from sample above.
For our return & exchange policy, click here.
Free shipping for orders over $100.

Special Notice: Due to the nature of this product, adult supervision required for young children. If this toy or any toy ordered is intended for a young child, please assume the following warning applies: Warning: Choking Hazard due to small parts. Not intended for children under 3 years of age. Remove all hang tags and their fasteners before giving this product to a child.
Warning for Pets: Our stuffed animals are not intended as toys for dogs or cats or other household pets. Pets that play rough can tear out plastic eyes or rip open animals. Both the plastic eyes and stuffing inside can pose a potential health hazard for pets. When dogs and cats play with stuffed animals, even those marketed specifically for pets, it's important to monitor the wear and tear on an ongoing basis to keep your pet healthy and safe. Click on the following hotlink to the American Humane Society to learn more about Pet Toy Safety: http://www.humanesociety.org/animals/dogs/tips/dog_toys.html