Lake Como, Italy, 5 Waterfront Balconies
Lake Como view from front-facing balconies

View from both apartments!

Indoor Pool!

Swimming pool!

Building view from the lake

Close-up view from sea-plane

Patio View

Vista Lago, Lake Como Patio View

Entry Gate/Patio View

Entry Gate to Vista Lago (secure underground parking)

View of Lake from Pool/Patio area

Lake View from Bedroom

Apartment is top floor!!

Bedroom Balconies

Top Floor with open windows!

Facade

Exterior, and View North

Summer Shades!

Breakfast Bar with view from Kitchen

View from kitchen area

Buildings Exterior.. Top floor

Lake Como, Vista Lago, Window view

View of Bellagio from East Side

Dining area

Lake Como Building Facade

Living area (2-bedroom)

View of buildings exterior from dock

Dining overlooks lake!

View from front balconies facing South toward Como

Lake Como Kitchen

Living area: Full Sofa (pull-out), love-seat, and cozy chair.

A room with a view...

Lake Como Living Area

View from front facing balconies

Lake Como Dining Area

Old Boat Stop, just outside Vista Lago

Balcony view South

Dining area to fully equipped kitchen

Master bedroom

Two Bedroom Balcony View

Master bedroom with balcony, and bath

Building view from Via Regina

Indoor Pool - Views to the lake!

Bedroom with double bed, and balcony.

Lake Como Boat Stop in front of apartments!

Master Bathroom (En-suite)

Master Bathroom (En-suite)

Lake view to Vista Lago

Lake Como Pool and Patio

View of East Side

View from balcony East

View from the North

Separate Studio view (with balcony)

View of property from lake (red roof)

Studio with Queen bed

Fitness center

Lake Como Church Next Door

Como Studio Bath

Studio living area (pull-out sofa)

Lake View

Studio living area to kitchen

Studio Kitchen

Studio view from living area

View North. Buiding is the red roof on the left side of image

Villa Orleandra, George Clooney Villa, 5 minutes away

View from Seaplane

View from Como facing south from sea-plane

Indoor pool

Fitness center

Location on the Lake!

Fitness center

Fitness center

Fitness Center

Fitness Center

Floor Plan

Villa Orleandra, George Clooney's residence just 5 minutes away

Duomo, downtown Como

Fishermen in the neighborhood

Lago di Como - Northerly
To inquire about this listing, please contact Barbara Ronchetti of Martha's Vineyard Sales & Rentals at 508-423-1443, or email barbararonchetti@verizon.net

Thank you for your interest in "Vista Lago" holiday rental on Lake Como, Voted in the top ten most popular homes on HomeExchange! (Out of over 55,000 homes!!!) Please consider your rental early, as there are a limited number of weeks annually that this home is rented!

Whether your holiday plans are for reading a book with a cappuccino on the balcony, dining in a lakeside ristorante with a glass of Barolo, enjoying a hike up the hillsides or mountains of the Italian Alps or your preference is windsurfing, boating and fishing, apartment, Vista Lago is the ideal destination for you! Please inquire about limited rentals available.
Please find a wonderful aerial video here, and film on the area here. A must-see report in the NYT here. To view proximately to lake please click here to view with mouse-over views of building and surround.

Location: Carate Urio, Lake Como, Lombardy, Italy, Europe
(Milan/Malpensa 45 min, Como 15 min., Lugano 20 min. Bellagio 30 min.)

Accommodations: Two separate Condominiums
2 bedroom: Sleeps 6 persons
Studio: Sleeps 2+2 persons
Combined Apartments: Sleeps 8+2 persons (Both can be rented and studio can "act" as a third bedroom.)

For additional images and information please also visit this link: www.comorentals .
Please find some helpful information below, handy links, new images, and comments from recent guests here.
Vista Lago, formerly Hotel Larius, was originally built early in the last century. Very recently the building has been fully restored, with particular attention paid to the finishings and architectural details of its period. An indoor pool, a fitness area, and secure underground parking have been added to the grounds, as well as direct elevator access to the apartment.

Almost everything in the apartment is new. Beautiful teak and marble tile from Italian quarries cover the floors. All furnishings, appliances, linens, and dinnerware are also new, ready for you to enjoy.

Find a recent NYTIMES article about the Lake here.
Layout: On the top (fourth) floor of a beautiful gated building, Vista Lago consists of a two-bedroom apartment (sleeping 6) beside a studio apartment (sleeping 2+2) Both have separate, private entrances. In total, the space is 1,400 square feet or 135+ square meters. These units are connected (and may be rented separately) as there is a door between them, creating a three-bedroom apartment in total. (Studio has a queen bed, and a double, pull-out sofa for use as the third bedroom).

2-Bedroom Apartment:
Beds:(linens and towels provided )
Master Bedroom: Queen Bed
Bedroom #2: Double Bed
Living room: Double Sleep Sofa
Crib by request.
The two-bedroom apartment features a large, open gourmet kitchen with a center island, a living area with a double sleep sofa and two balconies, a dining area, a glass table seating eight, two bedrooms (with a queen and double bed), each with water view balconies, and two marble-tiled, full baths. (Master bedroom has a private bath.) There is a high powered telescope too for lake and lunar viewing! A high chair and crib are available upon request.

Studio Apartment:
The Studio apartment features spectacular lake views as well as a balcony from the living/sleeping area, equipped with a queen-sized bed, plus a double sofa bed, a four-person dining table, kitchen, and full, marble-tiled bath. (Note: Studio apartment does NOT have use of the pool or fitness area if it is rented without the 2 bedroom apartment)

The studio is perfect for two+ persons, and is a terrific value. You would likely not find a room in a hotel with a lake view, so direct, and certainly not one with a balcony for less that at least two, maybe even three times the cost -- and you have a kitchen too!

If you are a group of three or more, I would say, for the little extra, take the studio too... It offers and extra bathroom, (third bath) and shower too.. a small kitchen.. would be fun for children, perfect for the au-pair, or just for someone to enjoy separate, quiet-time.

It offers a balcony with the most magnificent views, an extra TV/stereo/phone and sleep sofa which offers a fabulous view while sitting up AND while lying in bed, really something... it is like its own personal suite/third bedroom or separate den for some quiet time.

Studio has a queen bed, double sized, pull-out sofa (linens and towel provided) CD/stereo, microwave, full beautiful Rossa Verona marble tile bath, American coffee machine, Melior French press, all dish ware and utensils, refrigerator, gas cook-top and oven. Chess board, Local channel television, parking space included if necessary! Land telephone or cell phone (one of the two will be available to you), Video security monitor. Special notice: Studio apartment does not have use of pool area or gym. Please inquire for further details.

Location Detail: "Vista Lago," located in the old town, of Carate Urio, on the western shore of the lake, rich in residential villas, sits in a spectacular panoramic position on a beautiful slope facing the lake–one of the most elegant and romantic parts where the sun glistens on the water (often-times reflecting on the ceiling!).

Lake Como is a jewel-like oasis of tranquility, surrounded by a magical combination of lush Mediterranean foliage and snowy alpine peaks. Enclosed by steep-sided mountains, the blue waters of Lake Como have for centuries attracted visitors, including important statesmen, artists, and glitterati.



The lake remains a playground today not only for the rich and famous but also for those escaping greater Milan and the Po River Valley, less than an hour away. Driving south along the lake from "Vista Lago," you will find wonderful villas framed by breathtaking scenery.

You will pass Cernobbio, with the amazing Villa D'Este, before arriving in Como, a magical town with bustling markets, cafes and shops, and fine museums.

Traveling north you will find S. Moritz (Switzerland) about 1-1/2 hours drive, Davos (Switzerland) 1-3/4 hours drive, and S. Primo, Bobbio, Artavaggio (Italy) are only about 45 minutes drive. S. Bernardino and Ticino (Switzerland) approximately 1 hours drive. Cervinia (ITA) is 1.30 from there...

Travel Information: Once arriving in Milan-Malpensa Airport, from the terminal you can travel by bus to Como in 40 minutes (Appx. $32/E28) , then travel by boat or bus again to Carate Urio (E$5/6), where "Vista Lago" is located. A car can be hired/rented from Malpensa Airport. ( appx. E120 )The drive is approximately 40-45 minutes.

Travel Distances:
"Vista Lago" is perfectly situated for exploring Italy by foot, boat, or car*
George Clooney's Villa, Villa Orleandra (Formerly the Heinz Estate): 1 minute
World's Best Pizzeria, Orso Bruno: 2 minutes
Lakeside Lido (Swimming Beach): 3 minutes
The Versace Villa & Stings Villa: 5 minutes
World Renowned Villa D'Este: 10 minutes
Switzerland: 15 minutes
Seaplane and Boat Rentals: 15 minutes
World Famous Bellagio: 20 minutes (by boat)
Town of Como: 25 minutes (by boat or car)
Casino Di Campione: 25 minutes
Fantastic Winter Skiing: 35 minutes
Milan: 40 Minutes ~ Florence: 3 hours
Venice: 3 hours ~ Tuscany Region: 3 hours
Monte Carlo: 3 1/2 hours
Pisa: 4 hours ~ Rome: 6 hours
*All travel distances are by car unless otherwise noted.

YOU WILL LOVE THIS MOST BEAUTIFUL AND ROMANTIC SETTING. EXPERIENCE ITALY AT IT'S BEST!

Guest Reviews: Comments from recent guests here.Some others: "One of the most beautiful areas in Italy is comprised of Como and its adjoining lake of the same name. Here, you will find clear blue waters, snow-capped alpine peaks and historic walled towns. This relaxing getaway is located in the charming town of Carate-Urio, a small village with narrow, cobblestone streets and meandering pathways. I believe that this is one of the most beautiful, undiscovered vacation destinations in the world.

"Vista Lago" is located in a historic hotel, which has been recently converted into upscale & luxurious apartments. Upon entrance of this third floor apartment you will find a spacious and sunny living room, dining area and kitchen. This home features 5 balconies, all of which have panoramic views of the lake. I was impressed to find details such as a provided cell phone, satellite TV, a CD player with a variety of CD's, vacation guide books, brochures for the surrounding businesses and a list of recommended restaurants for that area.

Towards the rear of the apartment is the master bedroom which has its own private balcony and views to enjoy as you are waking up in the morning. There is an adjoining master bath which consists of 12' ceilings, tub and shower, large sink basin and marble throughout. The secondary bedroom also has its own balcony and views. There is an adjoining studio apartment, which can be closed off for privacy and rented separately. It includes a kitchen, living area with table for four, sleeper sofa and fully tiled bathroom.

Because the town is in such a quaint, residential area, there are only a few restaurants and small convenient stores within walking distance. We found it easiest to rent a car but there is also a bus stop right in front of the building and a water taxi can also pick you up for excursions around the lake.

This is a perfect vacation spot for those who enjoy and cherish peace and tranquility away from every day crowds. You are sure to go home refreshed and relaxed. ---Signed, VRBO Bear
Floor Plan: (Note: queen bed is not shown in studio on floor plan below.)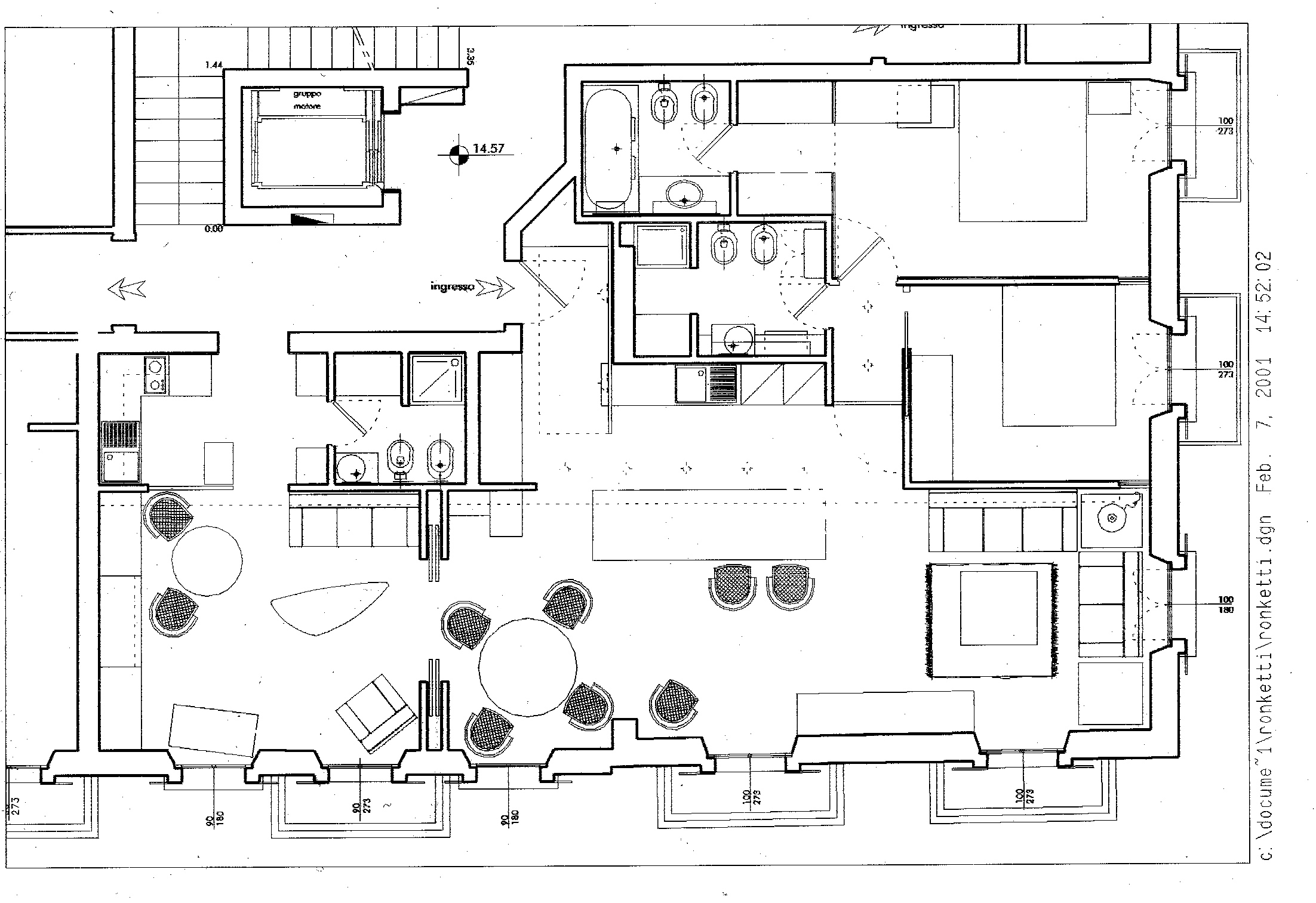 Amenities:
o Washer
o Dryer
o Linens Provided
o Garage
o Covered Parking
o Off Street Parking
o Elevator
Beds:
o Queen Bed
o Double Bed
o Convertible Beds (2)
o Crib
Entertainment:
o Cable/Satellite TV
o DVD
o CD Player
o Stereo System
o Music Library
o Shared Pool
Kitchen:
o Full Kitchen
o Cooking Utensils Provided
o Refrigerator
o Dishwasher
o Microwave
o Coffee machine/moka espresso makers, espresso machine
o Toaster/blender/juicer
Outdoor Features:
o 5 Balconies
View/Location:
o Lakefront
o Lake View
Communications:
o Telephone
o Cell Phone
o Wireless Internet
o Video-monitored entry security system
Other Amenities:
o Shared indoor pool & fitness center, (pool may not be heated year round, pool and fitness center not available with studio rental-please inquire for details)
o Secure underground parking
o Cable/Satellite TV,
o High chair, Stereo/CD player
o Washer/Dryer (2 bedroom apartment only)
o Iron & ironing boards
o Hair dryers, fans (Note, when studio is rented independently some of the above amenities differ, please inquire!)
Suitability:
o No Pets Allowed
o Handicapped Accessible (with some limitations)
o Wheelchair Accessible (with limitations)
o Child-Friendly
o Smoking Not Allowed Please
Activities: (on site and nearby)
o Golf
o Tennis
o Shopping
o Sightseeing
o Restaurants
o Kayaking
o Sailing
o Boating
o Waterskiing
o Swimming
o Snorkeling/Diving
o Windsurfing
o Biking
o Mountain Biking
o Cross Country Skiing
o Downhill/Alpine Skiing
o Snowboarding
o Sledding/Tubing
o Hiking
o Fishing
o Hunting
o Rock Climbing
o Fitness Center/Gym
o Health/Beauty Spa
o Basketball Court
o Antiquing
o Cinemas/Movie Theaters
o Live Theatre
o Museums
o Horseback Riding
Activities (detail): Fitness Center, restaurants and cafes, open air markets and plenty of sightseeing! Explore many spectacular towns along the lake with the water-bus; just a 10-minute walk away, Or take a scenic seaplane ride! Sailboat, paddle boat motorboat and water-ski rentals very close by, Downhill skiing within an hour's drive, For those who like to try their hand at gambling, visit Casino di Campione, just 20 minutes away, Do not miss the Versace Villa on the lake just 3 km away.

Rates for 2022-23 (in US Dollars):
2 Bedroom Both Apts Studio
Sleeps 6 Sleeps 8 Sleeps 2


Jan 2-Mar 13: $3,900/wk.......$3, 600/wk......$1,800/wk
Mar 13-Apr 24: $4,300/wk.......$4,850/wk......$2,300/wk

April 24--May 29: $4,800/wk.......$5,300/wk......$2,500/wk

May 29-Sept 4: Both apartments only, $5,700/wk

Sept 4-Sept 29: $4,500/wk.......$4,900/wk .....$2,300/wk

Sept-29-Oct. 3 27:......$4,150/wk.......$4,550/wk .....$2,100/wk
Oct 3-Oct 30 $3,800/wk.......$4,200/wk......$2,000/wk
October 30- Dec. 18
$3,400/wk.......$3,800/wk......$1,800/wk
Christmas/NY:.$4,150/wk.......$4,550/wk......$2,100/wk
Utilities and cleaning additional (avg: €450-€500/week total). Holiday weeks slightly higher.

Note: Until confirmed, rates are subject to change without notice. which commonly occurs during strong fluctuations in the EURO to DOLLAR conversion.

Monthly rates may be available ~ Inquire for nightly rates. Available 4 night minimum. October to April). 500 Euro (Currency) deposit due upon arrival.