Dam: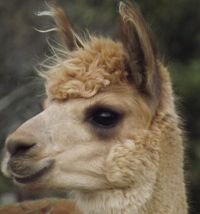 ARI#: 31674065
Heritage: Peruvian and Bolivian

Color: Medium Fawn
Billie Jean was up nursing when she was discovered and then she was quickly named in honor of the late Michael Jackson, as she was born on the day of his passing... and she does love to "dance" in the paddock!

Billie Jean has some notables in her heritage (including Snowmass Legacy Gold and The Silversmith), and we expect great things from this beauty. Her fiber is luxuriously soft, and with two extremely dense parents, she should have an abundance of it.

Billie Jean's mother and grandmother have both produced plenty of milk, and exhibited strong maternal instincts and it's no surprise that Billie Jean is the same. She will be a sound addition to any herd.

Billie Jean is a very loving and caring alpaca, with her personality and with her mother skills. When she gave birth to her first cria in 2012, Blaze, she did an amazing job! She had no difficulties and it was a smooth and quick birth. As soon as we dried Blaze off she was instantly humming to him and nibbling gently at his face. Blaze has amazing tight crimp that goes to the tip and great density.
---
Sire: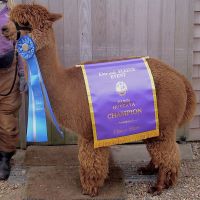 ARI#: 30522619
Heritage: Full Peruvian
Color: Medium Fawn
Estrada is a well-balanced male from two top parents. His Sire, Evander does it again with this amazingly dense, fine fleece male with a great handle and luster, extensive coverage and a great body. With his 2012 shearing, Estrada had over 12.6 pounds of fleece sheared off. Amazing!!
We are very excited to have Estrada in our breeding program. Alpaca judge, Wade Gease has said about Estrada, "He is the "complete package". Very nice fleece style and crimp formation throughout. He has kept his fineness/softness." Also, Judge David Barboza has said about Estrada: "His architecture and density is incredible! Spot on!" And Alpaca Fleece Judge, Cheryl Gehly has written: "Wow! Fine with great character! Quite uniform for micron.""Beautiful Fleece: fine, bright, well organized!". Awarding him first place in the competition, and again, after the fleeces third showing at the 2009 Empire Symposium and Fleece Event, she commented again;"Beautiful Fleece: fine, bright, well organized!". Most recent fleece circuit, Estrada's fleece (its fourth showing) took yet another blue at PAOBA show, May, 2009.
To date, Estrada has eight multiple Champ/Reserve Championships, and 27 first-place, blue-ribbon awards. See the details of his show record below, most in very competitive classes!
In 2009, Estrada's Fleece won the reserve Championship, and took first place in his class over another amazing alpaca who won the 2008 Futurity Championship that had 54 entries in the class!

Both dam and sire have produced Championship winners so his future is extremely promising indeed.
Estrada is settling females. Traditional farm breedings with confirmed pregnancy, stud fee: $2,500. Mobile breedings: $2,000. Drive-by breedings: $1,500. Please compare this champ to other herd-sires with similar show records. You will find him to be a terrific value!