News Flash: Estrada wins the "Get of Sire" Class at the Big Exposition, in West Springfield. His male offspring, "Lucca" was also awarded the Blue Ribbon in "Bred and Owned" as well as a Blue, in his color class.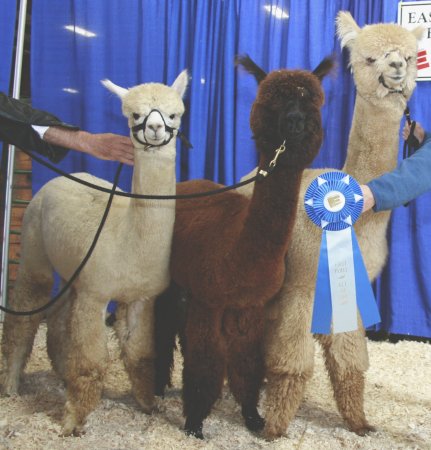 Estrada's three sons IL Tesoro (Left),Teodoro (Middle) and Lucca (Right) win the Get Of Sire ribbon at the Big E in 2011! (Above Photo)
RECENT NEWS:
The biggest news yet, are the results we are finding for what Estrada has been producing...Not just the fact that he is giving us the gift of color, but that his cria this and last year, are all dense, super fine (see below), and have terrific conformation.
The results from the Yocom-McColl Testing laboratories, have shown the most incredible results. All of his offspring this year and last were tested to reveal the following Micron (AFD):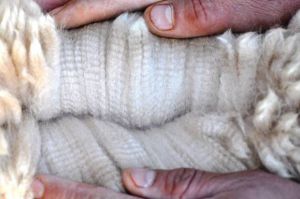 Estrada's Hot Shot, Medium Brown, 12.9
Estrada's Bosco, Light Brown, 13.9
Estrada's Pelegrina, Beige, 14.0 - (Sold) Fleece shown above)
Estrada's Marco, Beige, 14.1
Estrada's Nicola, Medium Brown, 14.3
Estrada's Summer Solstice, Dark Brown, 14.5 (Sold)
Estrada's Lucca, Light Fawn, 14.6
Estrada's IL Tesoro, Light Fawn, 14.6
Estrada's Milo, Medium Fawn, 14.7

Estrada's Marcella, Medium Brown, 14.9
Estrada's Hanne, Light Brown, 15.3 (Sold)
Estrada's Bentley, Light Brown, 15.8
Estrada's Anika, White, 15.8
Estrada's Bianca, White, 15.9 - (Sold)

Estrada's Siena, Light Brown, 16.0
Estrada's Francesca, Medium Fawn, 16.0 (Sold)
Estrada's Carlo, Medium Brown, 16.3
Estrada's Hunter, Medium Fawn, 16.5
Estrada's Destiny, Medium Fawn, 16.5
Estrada's Eclipse, Medium Brown, 16.5
Estrada's Roberto, Light Fawn, 16.6
Estrada's Teodoro, Medium Brown, 16.6 (Sold)
Estrada's Annabelle, Dark Fawn, 16.7 (Sold)
Estrada's Zambrotta, Light Fawn, 16.7
Estrada's Thunder Gold, Light Fawn, 16.8
Estrada's Arabella, Light Brown 16.8
Estrada's Blaze, Medium Fawn, 17.0
Estrada's IL Bacio, Medium Fawn, 17.0
Estrada's Lorenzo, Beige, 17.2
Estrada's August, Dark Fawn, 17.3

Estrada's Angelica, White, 17.5
Estrada's Eve, Light Fawn, 17.6
Jovie of Island Alpaca, Medium Brown, 17.7
Estrada's Kiwi, Bay Black, 17.7

Estrada's Katarina, Dark Fawn, 17.7
Estrada's Larissa, Light Brown, 17.8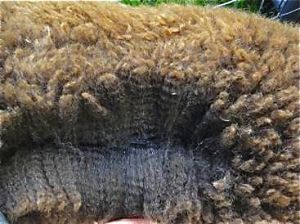 Estrada's Giuseppe, Rose Grey, 18.0 Fleece of Giuseppe @ less than five months of age, shown right.(Sold)
Estrada's Layla, Dark Brown, 18.3
Estrada's Monarch, Dark Fawn, 22.9
Amazing results!! (Many of Estrada's off-spring listed here are available for sale, so please inquire for details-SD, CV and %>30u figures can be provided on any animal.)

Results are in: Empire Fleece Event 2011: Estrada, our well decorated herd sire, manages a Championshipin his color class of 36 alpaca in total, with all but 4 competing alpaca, younger than him.. That is lot said for the fleece of an alpaca at 3-12 years of age... at the Alpaca Festival of Oregon, 2010 takes another Championship (Reserve Fleece) out of 22 entries, competing again, with alpacas half his age! Another show, the first annual STAR Spin Off, 2010 in Texas, a blue ribbon, and the highest scoring fleece in his color group:1 out of 29. And again, he also won two additional blues, this year, not only in his age group, of mature males, but took the big win in the entire color class of all ages, at the2010 TxOLAN Alpaca Spectacular, Spin-Off competition. He was judged the best of fifteen other alpaca, even the youngest of animals! Up against some stiff competition! Finally, another A+ blue at the 2010 CABA Classic Spin-Off, Estrada's fleece scored a brilliant 92 out of 100!
Estrada is a well-balanced male from two top parents. His Sire, Evander does it again with this amazingly dense, fine fleece male with a great handle and luster, extensive coverage and a great body. With his 2010 shearing, Estrada had over 10 pounds of fleece, which is an incredible 6+% of his overall body weight!
We are very excited to have Estrada in our breeding program. Alpaca judge, Wade Gease has said about Estrada, "He is the "complete package". Very nice fleece style and crimp formation throughout. He has kept his fineness/softness." Also, recently, Judge David Barboza has said about Estrada: "His architecture and density is incredible! Spot on!" And Alpaca Fleece Judge, Cheryl Gehly has written: "Wow! Fine with great character! Quite uniform for micron.""Beautiful Fleece: fine, bright, well organized!".awarding him first place in the competition, and again, after the fleeces third showing at the 2009 Empire Symposium and Fleece Event, she commented again;"Beautiful Fleece: fine, bright, well organized!". Most recent fleece circuit, Estrada's fleece (its fourth showing) took yet another blue at PAOBA show, May, 2009.

To date, Estrada has multiple Champ/Reserve Championships, and over twenty first-place, blue-ribbon awards. See the details of his show record below, most in very competitive classes!
In 2009, Estrada's Fleece won the reserve Championship, and took first place in his class over another amazing alpaca who won the 2008 Futurity Championship that had 54 entries in the class!

Both dam and sire have produced Championship winners so his future is extremely promising indeed.

Estrada is settling females. Traditional farm breedings with confirmed pregnancy, stud fee: $2,500, $2,000, mobile*, and $1,500 for drive-by breeding.

Please compare this champ to other herd-sires with similar show records. You will find him to be a terrific value!

Generous discounts for multiple breedings, reserved by April 1, 2012: 2 for the price of 3, for mobile or drive-by breedings!

(20% deposit required, *transportation for mobile breedings additional - please inquire).
For more information or photos please email us at info@islandalpaca.com. Thank you!

Type:
Hu
Gender:
Male - Herdsires
Status:
Now Breeding!
Birthdate:
October 5, 2006
Heritage:
Full Peruvian
Registration:
ARI
ARI#:
30522619
Color:
Medium Fawn
In Service Since:
2008
Price:
Not for Sale.
Stud Fee:
$2,500 (Traditional Farm breeding). Drive-by's: $1,500)
Download PDF Certificate:
Certificate-Estrada.jpg
Lineage:
For lineage records, please click here.
Fiber Analysis:

2012 shearing Estrada sheared off 12.6 lbs of fleece!

Estrada shears an incredible amount of fleece; 2010 shearing weight was over 10 pounds... 2008 total weight was 8.5 lbs which translates to 7.3% of body weight! That is tremendous for an alpaca with the average being just under 4 percent!

Awards:

CT Estrada Awards Received




Empire Fleece Event, 2011, Championship, Fawn Fleece (All age groups! - out of 36 alpaca, Wade Gease, judge)
Alpaca Texas Ranchers (STAR) Spin-Off, 2010: Highest Scoring Fleece, 1st of 29, Fawn (all age groups - out of 29 alpaca, Menzie and Telisak, judges)
Alpaca Festival of Oregon - 2010 - R. Championship,Fawn (All age groups! - out of 22 alpaca)
Txolan Alpaca Spin-off 2010: Highest Scoring Fleece, 1st of 16) Fawn (All age groups, Menzie and Telisak, judges)
Big E 2009 - Championship Fawn Male (Polly, Michaelis, judge)
MAPACA 2009 - R. Championship, Fawn Fleece (Out of 31 alpaca, Cheryl R. Gehly, judge)
NECC 2008 - R. Championship Adult Male (25 alpaca, Kristin Buhrmann)
Big E 2007 - Championship Fawn Male (1 of 35)
NECC 2007 - R. Championship Fleece

Green Mountain 2012, Fawn Mature Huacaya - First Place


The Big E " Get of Sire", 2011 - First Place

New England Alpaca Classic, "Get of Sire", 2011 - First Place
Spring Bling Alpaca Show Spin-Off, 2011 - First Place Fawn (D. Rudd, judge)
Empire Fleece Event, 2011, First Place- Fawn Fleece (Age 3-5 age group - out of 4 alpaca)
2010 VAOBA Spin-Off - First Place- Fawn (1 of 6, judge Sandi Ridge)
Texas Ranchers (STAR) 2010 Spin-Off - First Place-Fawn (1 of 7, Menzie and Telisak, judges)
Alpaca Festival of Oregon, 2010 - First Place- Fawn (1 of 4, VandenBosch, judge)
CABA Classic Spin-Off, 2010 - First Place Fawn (1 of 4, Timmerman and Lamb, judges)
Txolan Alpaca Spin-Off, 2010 - First Place Fawn Adult (1 of 5, Menzie and Telisak, judges)
Big E - 2009 - First Place Fawn Adult Male (Polly Michaelis, judge) out of 7
PAOBA 2009 - First Place Fleece
MAPACA 2009 - First Place Fleece (1 of 13) Yearling, MF, Cheryl R. Gehly, judge)
Maryland Alpaca Show 2009 - First Place (1 of 5, Gease, judge)
Empire Fleece Event 2009 - 1st Place Adult Male (1 of 8, C. Gehly, judge)
GMAFS 2008 - First Place Fleece (1 of 4, Cheryl Gehly, judge)
NECC 2008 - First Place Adult Male Fawn (Kristin Buhrmann judge)
NECC 2008 - First Place Adult Male Fleece (Peter Kennedy, judge)
Empire 2007 - First Place Bred and Owner (1 of 12, VandenBosch, judge)
Empire 2007 - First Place Yearling Male (1 of 11, VandenBosch, judge)
GMAFS 2007 - First Place Yearling Male (1 of 12, Buhrmann judge)
GMAFS 2007 - First Place Bred & Owned (1 of 7, Buhrmann, judge)
NECC 2007 - First Place Bred and Owned, (1 of 9, VandenBosch)
NECC 2007 - First Place Medium Fawn Fleece (1 of 8, Macleod, judge)
NECC 2007 - First Place Medium Fawn, Yrlg (1 of 7, VandenBosch, judge)
Big E 2007 - First Place Fawn Juvenile (1 of 6, Gease, judge)

Histogram:(click for larger view)