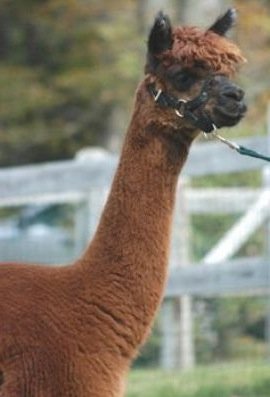 ARI#: 842365
Heritage: Peruvian and Chilean

Color: Medium Brown
Kristina is a lovely proven nurturing mother. She has six beautiful babies on the ground. We are so fortunate to have event free births with Kristina. All goes very smoothly and she is a very caring gentle mom. For a first time breeder Kristina will be a real treasure.
She had lovely Margeaux in 2006, a medium fawn female, when bred to white (Skyeview's Michelangelo). In 2007 she had a wonderful white male this time, Michelangelo's David, when bred to the same white service sire, Michelangelo. 2008 brought us a medium brown female, Captain Jacks, Jackie O' when bred to fawn.
Her 2010 cria, equally impressive results: Estrada's Katarina, with a micron in the 17's.

Terrific diversity in color!
---