Dam: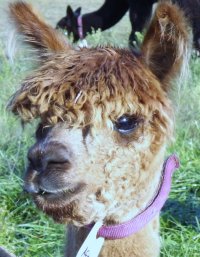 ARI#: 30425392

Heritage: Peruvian and Chilean


Color: Medium Fawn



Aptly named after the "Angel of Twilight" CCNF Archangel's Aftiel is one of the most stunning animals in the herd.

We would like to say that we think it doesn't get any better than this in color but we have not seen every colored alpaca in the US. But we reckon the phenotype, the pedigree, the fiber, it all stacks up here as being elite.

Speaking of lineage, Archangel's Aftiel, in October 2008, was one of the darkest offspring (only five medium fawn alpaca of 72) by her multi award-winning sire, CCNF Archangel (offspring of, Accoyo Legends, Snowmass Legacy Gold, PPERuvian Mr. President, and Augusto.) Only 25% of his registered alpacas have color.

Aftiel has fabulous solid color! Her fleece is fine and dense exhibiting high luster, and staple.

Her dam, Nova's Twilight, is a fabulous black with terrific presence and valuable heritage: Snowmass Nova and Snowmass Peruvian Casanova.

Disregarding all of these wonderful traits, and genetics, there is something worth mentioning about her personality... she carries with her, most of the day, a piece of hay, or a stick in her mouth just for fun and often times she comes close enough and offers kisses to her human friends... I have not yet met an alpaca with such endearing traits!

Don't miss out on your chance to own one of the first Archangel cria for sale!
---
Sire: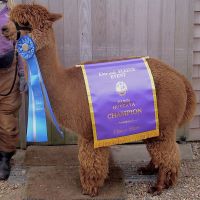 ARI#: 30522619
Heritage: Full Peruvian
Color: Medium Fawn
Estrada is a well-balanced male from two top parents. His Sire, Evander does it again with this amazingly dense, fine fleece male with a great handle and luster, extensive coverage and a great body. With his 2012 shearing, Estrada had over 12.6 pounds of fleece sheared off. Amazing!!
We are very excited to have Estrada in our breeding program. Alpaca judge, Wade Gease has said about Estrada, "He is the "complete package". Very nice fleece style and crimp formation throughout. He has kept his fineness/softness." Also, Judge David Barboza has said about Estrada: "His architecture and density is incredible! Spot on!" And Alpaca Fleece Judge, Cheryl Gehly has written: "Wow! Fine with great character! Quite uniform for micron.""Beautiful Fleece: fine, bright, well organized!". Awarding him first place in the competition, and again, after the fleeces third showing at the 2009 Empire Symposium and Fleece Event, she commented again;"Beautiful Fleece: fine, bright, well organized!". Most recent fleece circuit, Estrada's fleece (its fourth showing) took yet another blue at PAOBA show, May, 2009.
To date, Estrada has eight multiple Champ/Reserve Championships, and 27 first-place, blue-ribbon awards. See the details of his show record below, most in very competitive classes!
In 2009, Estrada's Fleece won the reserve Championship, and took first place in his class over another amazing alpaca who won the 2008 Futurity Championship that had 54 entries in the class!

Both dam and sire have produced Championship winners so his future is extremely promising indeed.
Estrada is settling females. Traditional farm breedings with confirmed pregnancy, stud fee: $2,500. Mobile breedings: $2,000. Drive-by breedings: $1,500. Please compare this champ to other herd-sires with similar show records. You will find him to be a terrific value!